Weekly updates
Check our website every week to keep up to date with all the exciting things we have been doing in school!
Friday 19th January- Ice week
This week has all been about ice, we were left some ice each day. We talked about where it had come from, what it felt like and how it looked. We tested which way was the best to melt an ice cube. First the children predicted whether they thought the hot water, cold water, salt or soil would melt the ice cube best. Then we tested .
Can you tell your adult which was the best?
We have also been finding all about penguins and have been writing some amazing facts about them.
Last week more children completed the reading challenge congratulations to Kayla and Keavy Stevenson, Adam Szczyglo and Keela Evans.
Remember keep reading.
Friday 12th January - first week back
Happy New Year and welcome back! We hope you had an amazing Christmas and New Year. It was lovely to see all the children again and hear all about their time off.
This week we found a Polar Bear's foot print in the classroom and he had been naughty messing up our brick area. We then read The little Polar Bear book which told us all about the adventures of Lars the baby Polar Bear, from the North Pole to the Tropics. The children learnt about the differences in the two places and camouflaged animals that live in the snow.
Can you tell an adult all about Lars' adventure? Can you explain what camouflaged means?
In maths we have been playing bingo helping us to recognise our numbers up to twenty. We have also been estimating.
Can you explain what estimate means to your grown up?
Friday 15th December - Concert week
It was lovely to see you all at the concert. I'm sure you will agree all the children were brilliant. Well done to everyone.
This week we have listened to the Christmas Story and learnt why we celebrate Christmas.
More children finished the reading challenge. They were Frankie Davis, Amelia Callaghan, Aaleyah Linford, Ruby Birley and Bradley Walmsley.
Keep on reading.
Friday 8th December- making calendars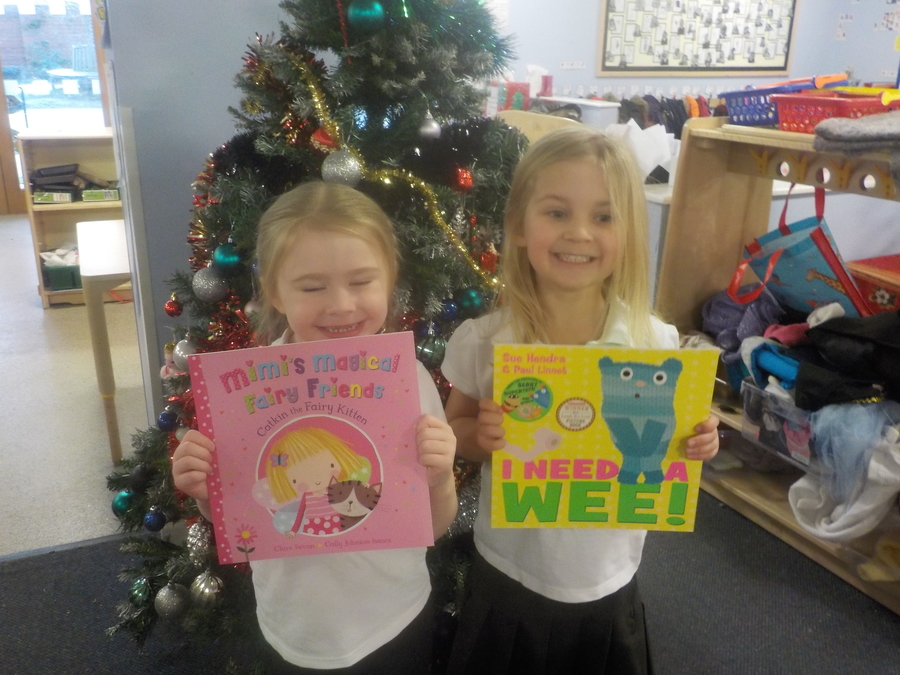 Another busy week practising for our concert and making calendars.
Congratulation to Mille Norton and Esme Proctor for finishing the reading challenge last week.
Friday 1st December - Jolly Postman week
We have enjoyed reading The Jolly Postman book this week. We have written addresses on envelopes, drawn maps of his route and sorted the envelopes in his bag.
The children made their Christmas cards, typing their names on the computer and then writing them inside. They look lovely.
Remember to keep practising writing your name.
Congratulation to last weeks winners of the Reading challenge, Grace Rodgers, Odin Nutt, Harrison Wood and Willow Guy.
Friday 24th November- Parents Week
It was lovely to see so many parents this week. The children enjoyed showing you all the things they do in school and it was an opportunity for us to tell you the progress they have made and how brilliant your children are.
We have enjoyed reading the book Burglar Bill, which provided us with lots of counting practise and the chance to be witnesses describing suspects. We have also learnt about the role of the police .
Congratulations to Macie Wood, Angel Allott, Alfie Sykes, Charlie Sanderson, Charlie Wardle and Charlie Povey- Gillespie for finishing the reading challenge last week. Keep it up!
We would like to say a big thank-you to Mr Williams who came to see us in his fireman's uniform, you were brilliant. He arrived dressed in full uniform with breathing apparatus and then explained about each piece of equipment to the children, allowing them to feel how heavy it was. Mrs Pickering tried the uniform on and she was shocked heavy and warm it was.
Can you tell a grown up about a fireman's uniform ?
Friday 17th November- Children in Need Week.
What a busy week!
It began with odd sock day and ended with Children in need day. Thank you to everyone for their support.
This week we have been learning about our teeth and how to look after them.
Can you remember how many times you need to brush your teeth and for how long?
Congratulations to our first winners of the reading challenge. They were Leo Jak Phillips , Seth Price, Ollie Freer, Jessica Braithwaite, Archibald Bolton, Summer Etherington and Bella Jade Javens . These children received a prize. Keep it up.
Friday 10 th November -Challenge week
Welcome back and we hope you had a brilliant holiday.
This week we have introduced the children to daily challenges. These are short ten minutes activities which the children must stay at before going to explore. Over the week the children will do ten different challenges.
Can you tell a grown up some of the challenges you have done?
Friday 27 th October- Halloween week
As Halloween is near, our work this week was based on the book The Room on the Broom. The children made potions by sounding out and blending things to put in. We also found rhyming words in the book.
Can you find words that rhyme at home?
Can you say the beginning sound of things in your house?
In maths we used witches hats with numbers on, to order the numbers and find one more than that number .
Can you say one more than a number?
Friday 20th October- Elmer week
Elmer visited this week. We have completed lots of Elmer tasks.
Friday 13th October- Harvest week
Another exciting week in foundation! It was lovely to see you all at our Harvest festival and the children were brilliant.
On Monday we visited by Pete and Penelope pea and they have been hiding around the classroom all week. We used positional language to explain where they were hiding and made shapes from peas and sticks.
Can you explain where things are in your house, using words like on, next, behind?
We also made faces from natural materials like leaves and conkers. Do you like them?
Outside was made to look pretty by some bright weaving.
Friday 6th October 2017- Chopping fruit
The children have had another exciting week, finding out about healthy and unhealthy foods. On Monday we were left some equipment which we had to work out what to use it for. It was used for peeling and cutting fruit which we then tasted. We also found out that the Panda's favourite fruit was apples and the Polar Bear's was grapes.
Lots of counting has been happening too, we counted the conkers.
Can you count things around the house?
Friday 29th September 2017- Making faces
Something strange has been happening this week, we keep finding photographs of adults in our class pulling funny faces! We have talked about different expressions and how someone may be feeling. We also have read 'Making Faces' by the author Nick Butterworth.
Could you use a mirror to make funny faces?
Can you take photos of your family making happy/sad/angry faces? You could use a phone, IPad or camera to take pictures.
Friday 22nd September 2017- All about babies
On Monday we had been left a bag of items; nappies, a dummy, bottle and board book. We discussed who all these things belonged to and decided it was a baby. We have been learning about how babies change and what they need all week. The children have been making shopping lists for Mrs Nelson.
The children have also been using our new cameras to take photographs, take a look at some of the snaps they got!
Friday 15th September 2017- Kipper needs help!
Kipper had been very busy last weekend in our classroom- he explored all the areas and had a brilliant time. But there was a problem... Kipper forgot to tidy up! All week the children have been reminding Kipper to choose it, use it and put it away! They have also helped him with some of our other golden rules!
Look at the photographs- can you remember our golden rules?
Friday 8th September 2017- First week at school
The children have had a fantastic first week at school. We have been very busy exploring our classroom, making new friends and following the golden rules.
What have you enjoyed this week?
Can you remember any of the class rules?
Here are a few photographs from this week.