Welcome to the lewis carroll class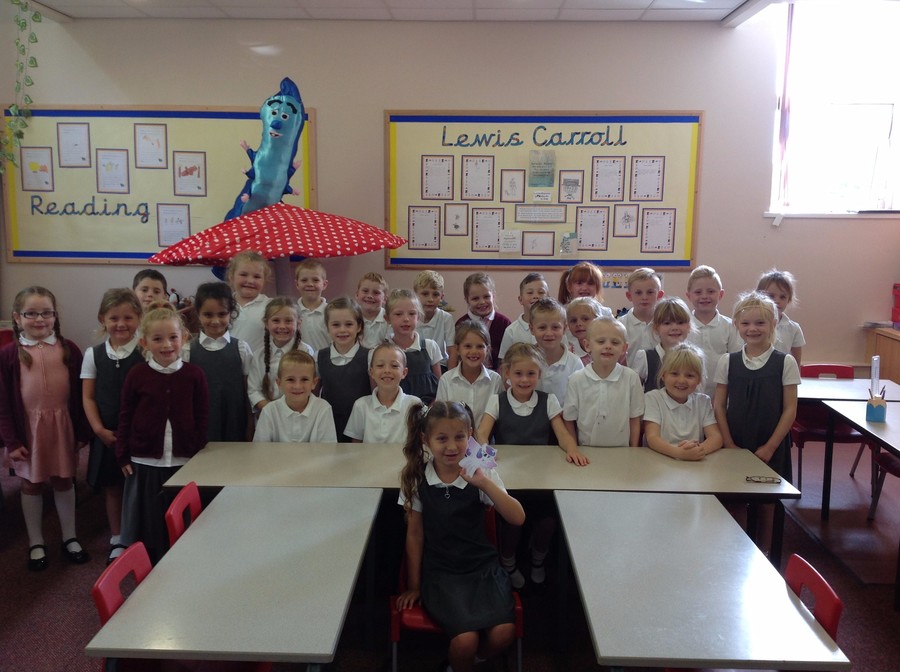 This year our class identity is based around the famous author Lewis Carroll . During transition week, we chose Lewis Carroll from a range of famous authors, and learnt all about his life and his amazing writing. We learnt all about his excellent novel 'Alice in Wonderland' and her adventure with the Mad Hatter and friends.
Our teacher this year is Miss Thomas and we are incredibly lucky to get to work with Mr Elvin and Miss White, and on occasion Mrs Parker and Mrs Bull.
Keep checking back for regular updates on all the exciting things we will be doing throughout the year!
October half term homework
TEAM ACTIv multi skills october 2016 winners!
We entered 12 children from Year 2 into the Team Activ Multi-Skills competition which was hosted in our very own gym this year. The children were amazing! They tried their hardest, cheered on their own teams and others and behaved as impeccably well as always. They were an absolute pleasure to be with for the afternoon and represented the school amazing well, making Miss Thomas a very proud!
When it came down to waiting for the results to be read, the children sat patiently as the runners up were announced. As they waited, their excitement was clearly growing and when finally the winners were announced as both Churchfield Teams', they erupted in applause and cheers!
It was a brilliant afternoon, and one that we will hopefully be repeating at our next competition!
More Awards
The Lewis Carroll's just can't help collecting awards! Here are the Golden Award Winners and Behaviour All Star for this half term. Well done!
SUPERTATO and the superhero vegetables
Over the last couple of weeks we have read a book called 'Supertato' by Sue Hendra. We have really enjoyed following Supertato's mission to save the supermarket vegetables from the pesky, horrible Pea who has been hurting them after escaping from the freezer. We decided that we would like to design and create our own superhero fruit and vegetables and create them using balloons and papier mache. We really enjoyed making our superheros and decorating them, even if it was a little messy! After this, we decided we would like to write our own superhero veg stories. So after some very careful planning we wrote and redrafted our superhero stories.
Awards
What a week for awards!
This week Connor was awarded the P.E award for all his hard work and motivations during our P.E lessons, and Josh was received two certificates. His first certificate was awarded for his excellent effort in Maths this week and today he was also awarded with his Golden Award.
Josh was chosen for the Golden Award because he has really challenged himself to answer some pretty tricky maths questions this week and has mastered counting forwards and backwards in 2s, 3s, 5s and 10s. He's also tried really hard during our writing PBL sessions and has written some amazing facts about Florence Nightingale which we are hoping to share in our Assembly next Wednesday in front of lots of our parents.
This week has also been a really good week for Chloe who won Miss Exley's Roald Dahl competition by creating her very own character. Chloe received a certificate and an amazing bag full of brilliant books to take home and keep forever! Well done Chloe
Our visit from florence nightingale
This morning an amazing visitor came to Class 5!
The children gasped with astonishment as Florence Nightingale walked into the classroom with her famous lamp. After an introduction to her life as a child and her incredible desire to become a nurse, even though her rich family didn't want her to. Florence explained to the children about her work in the Crimean War and how she changed the image and profession of nursing around for the better. The children met her pets as she grew up and found out what it was really like in Scutari Hospital.
After that, the children were allowed to dress up in costumes from the period, including Florence's outfit, nurses' uniform and the soldier's uniforms too. They played with toys that Florence would have playing with as a child, and looks at lots of interesting artefacts. Please have a look at all our photographs to see what the children got up to.
The day was a huge success and the children really, really enjoyed meeting Florence Nightingale. She even said they were a pleasure to be with.
Well done Class 5, you've done me proud again!
The First Week back
What a week!
We have had a brilliant time during our first week back at school. All the children are settling in amazingly well and have produced some fantastic work. This week we have been thinking about number sequences and talking about all the different people that help us in our daily lives, and the services that help us in emergencies such as doctors, nurses, firefighters, lifeguards and many more. We've done some beautiful writing about the different roles these people play and all the things they have to do to help us and have even created sketches to compliment our writing.
I couldn't be prouder of the new Year 2s. They've worked so hard this week, keep up the good work!
This week's winner of the Golden Award is Kia. She was awarded this for being an excellent role model for all the other children, and for consistently putting 100% effort into all her work all week! Well done Kia!