8th June 2018- Re Week
Today, we had a special visitor to talk to us about Hinduism. We learnt about the words Karma and Reincarnation. We also got to try some flavoured Fennel Seeds if we wanted to. It was really fascinating to meet someone who followed the religion we have been learning about all week.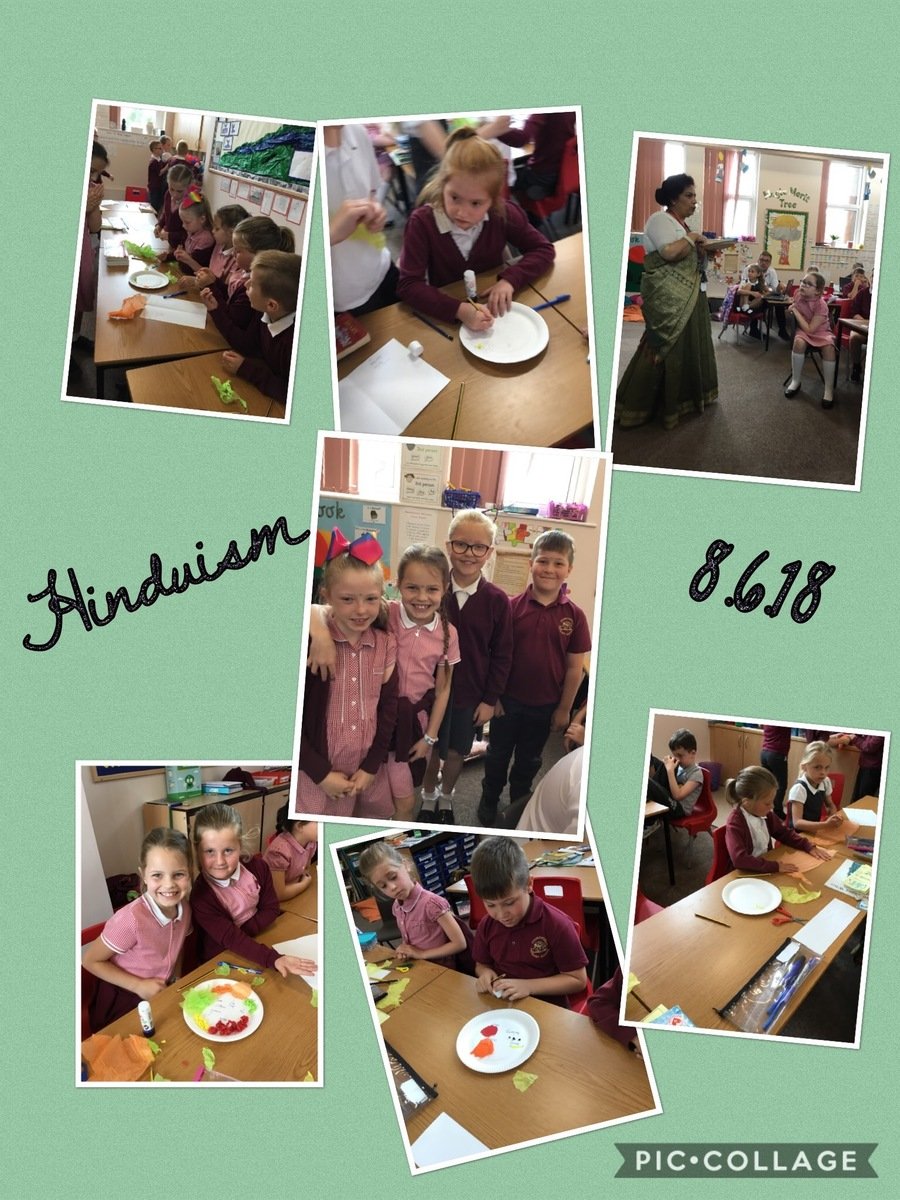 22nd May 2018- Whaling
This week, we have learnt about the Whale Bone Arches in Whitby and why they are there. We looked at the industry of Whaling and how this links to Whitby. To go with our research, we recreated this image of a whale's tail emerging from the water. We practised in our sketch books to get the right shade of blue, and selected different brushes to use for the sea and the Whale's tail.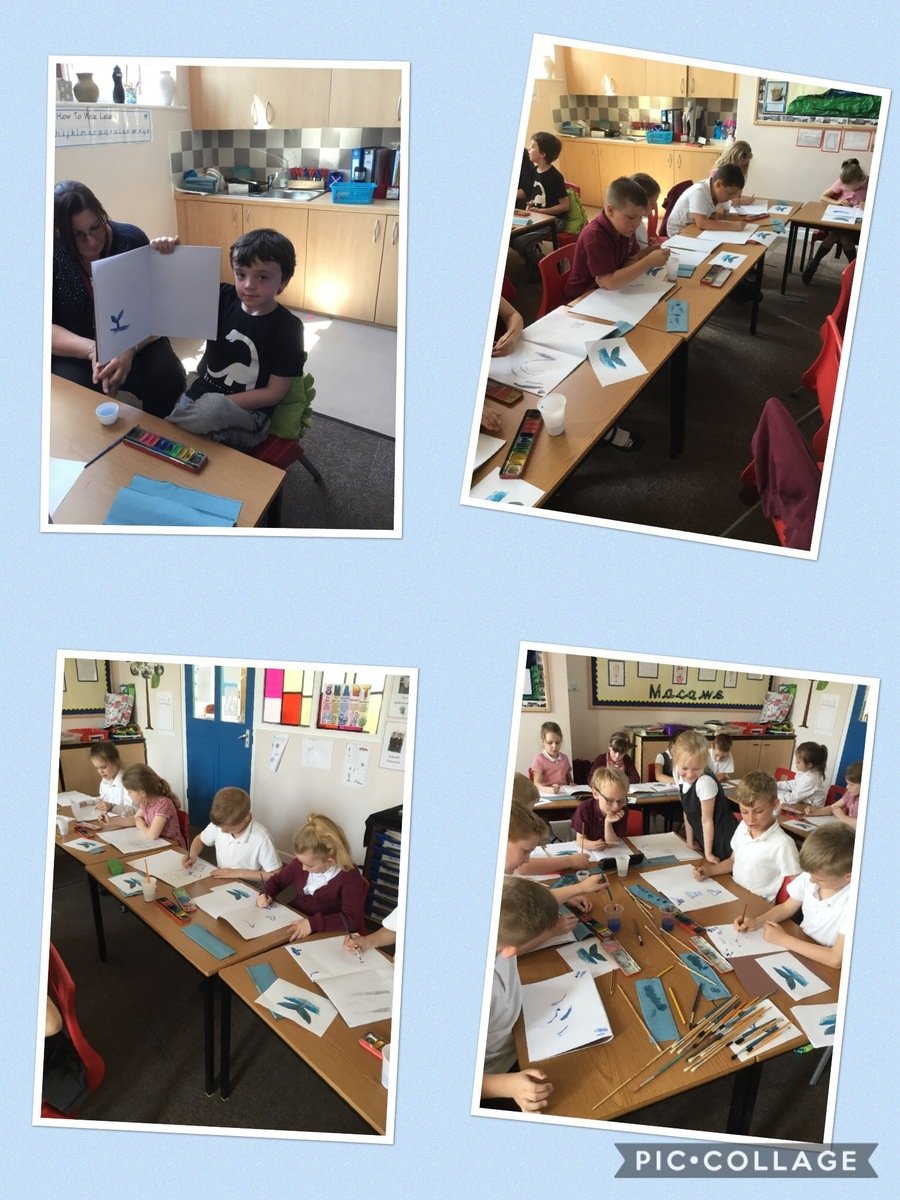 10th May 2018- Wonderful Whitby!
Today, all year 3 and 4 went to Whitby. We had a brilliant day and the weather was just right. We started our day up at the Abbey and did some sketches of the remarkable building. After lunch, we walked to see the Whale Bone arch and the Captain Cook monument but it was closed for refurbishment. Last of all, we completed a survey and asked members of the public questions about why they were in Whitby and their favourite part of the area. To finish the day, Mrs Scattergood got us all a stick of rock as a souvenir of our day.
23rd April 2018- Ancient Egyptians
Today, we used modelling clay to create Egyptian Canopic Jars. We created a slab pot for the base and a thumb pot for the lid. We used skip to make sure the clay was joined properly. We had great fun!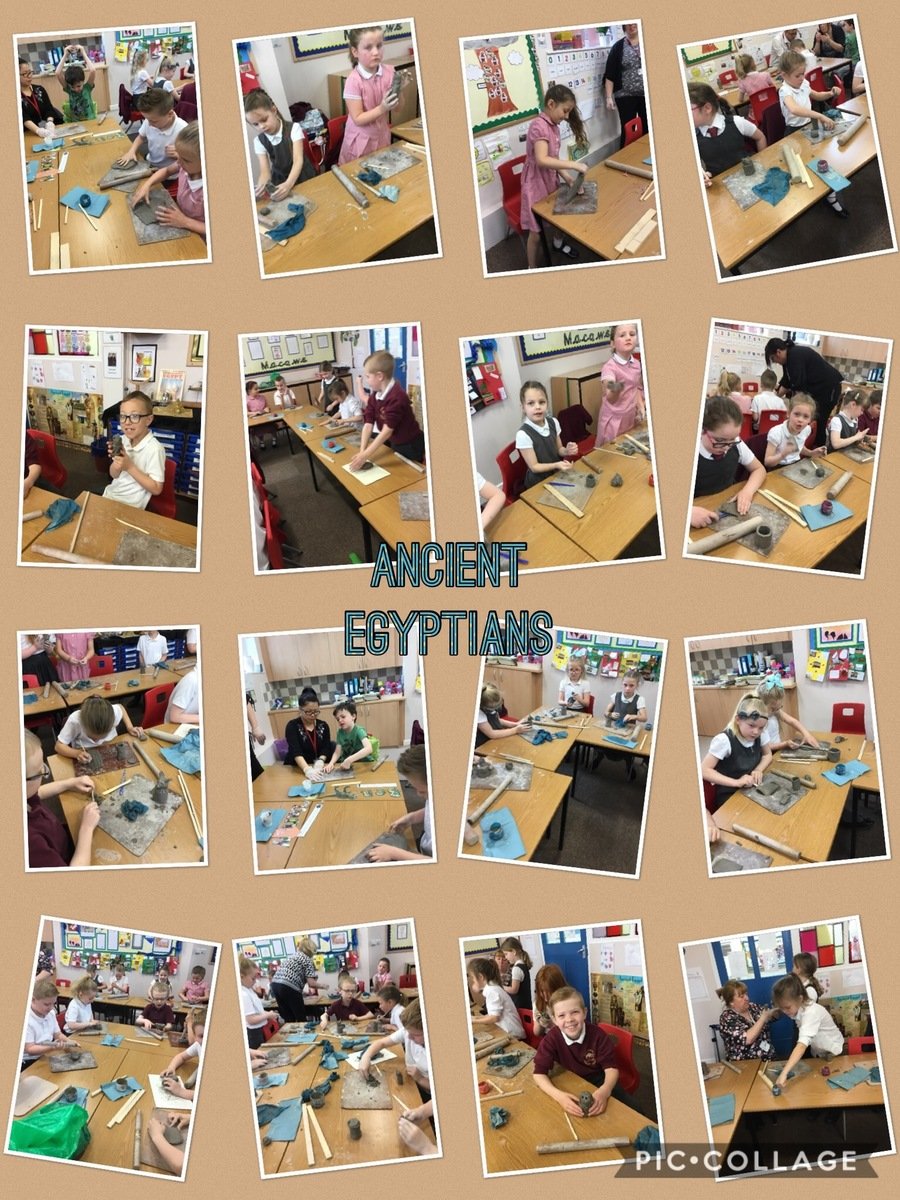 15th March 2018- Fairtrade fruit skewers
This week, we went to the local Coop and bought some Fairtrade fruit and chocolate. We then chopped, peeled and diced the fruit and put it onto the skewers. We drizzled the chocolate all over the fruit. They were delicious. At the end of the day, we sold the fruit skewers with smoothies, brownies and cookies from the other year 3 and 4 classes.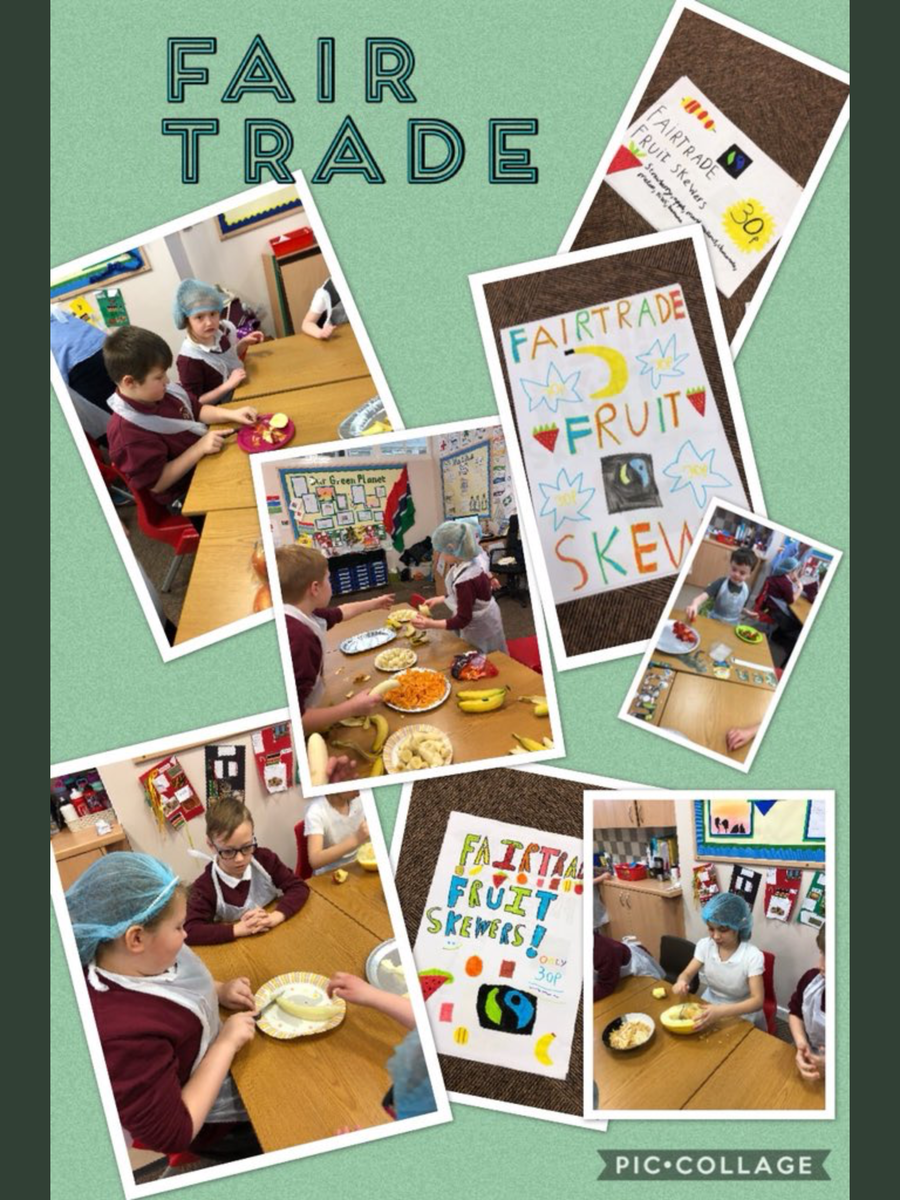 5th March 2018- World Book Day
Today, we celebrated our rescheduled World Book Day. All the children came dressed up as their favourite book characters and enjoyed a range of reading activities throughout the day. Well done to everyone involved!
26th February 2018- Mama Miti
We have had a fantastic week reading our new class book Mama Miti! We found out that the story is based in Kenya, Africa! We each completed research on different areas of Kenya such as: cuisine, traditions, animals and lots of other facts! With this research, we presented the information on a mood board, using the colours that relate to the country and flag. We used laptops to research, copy and paste our own photographs and then printed them. We also completed some drama and acted in role as Wangari, the main character in Mama Miti! We had to give advice to the poor women of Kenya!
19th February 2018- Reading camp
Today, the children walked into a reading wonderland! All the hall has been set up in to different reading areas: Narnia, Harry Potter, Adventure, Sciencists, by the beach and the joke/ humour area! The reading camp is here all week for us to use and enjoy immersing ourselves in books in the different areas. Next week, we are celebrating world book day and we have the book fair in school. We can't wait!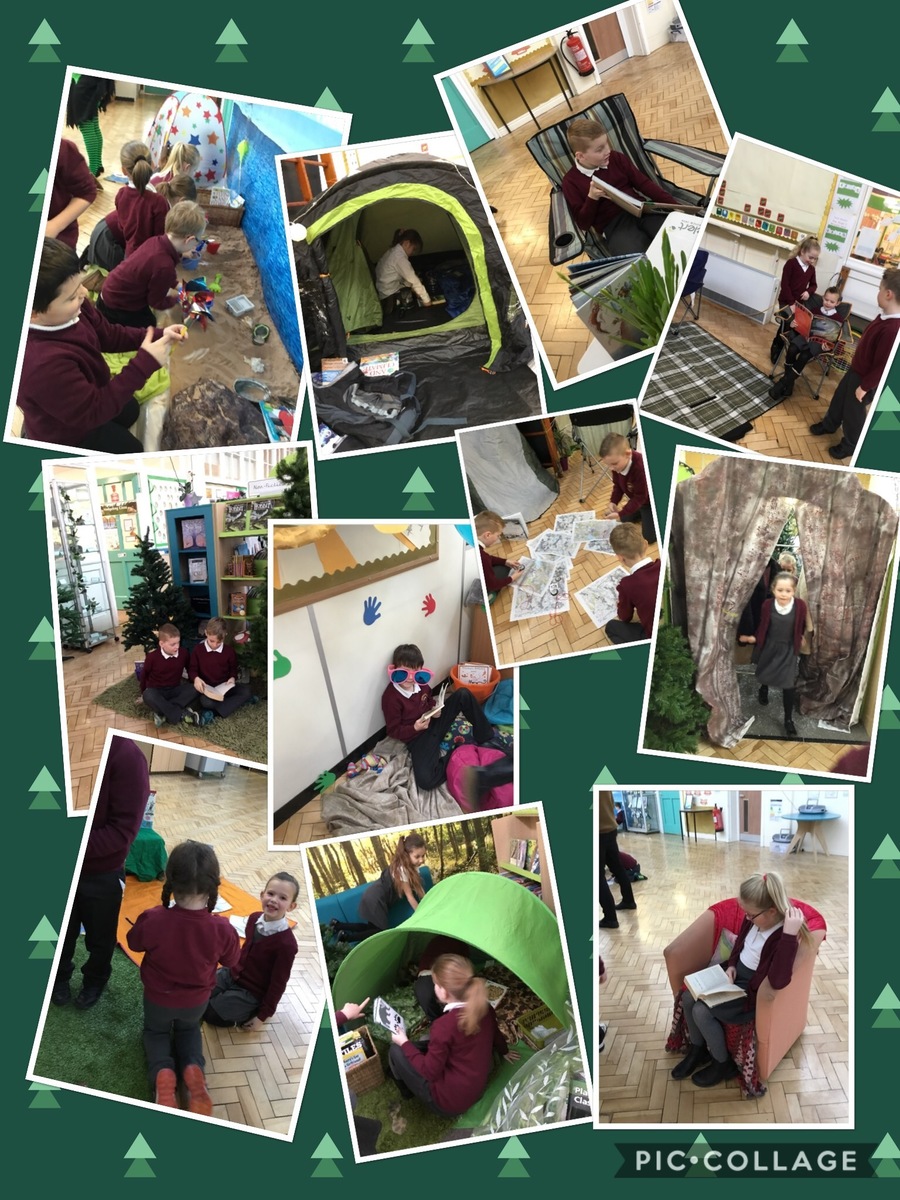 6th February 2018 South Yorkshire finalists!
Today, the Marvellous Macaws were so proud! Three of our girls represented the school with four others in the South Yorkshire Cross Country Final. Proudly,WE WON! The girls showed such determination! Here they are with their own t shirts and medals from the event!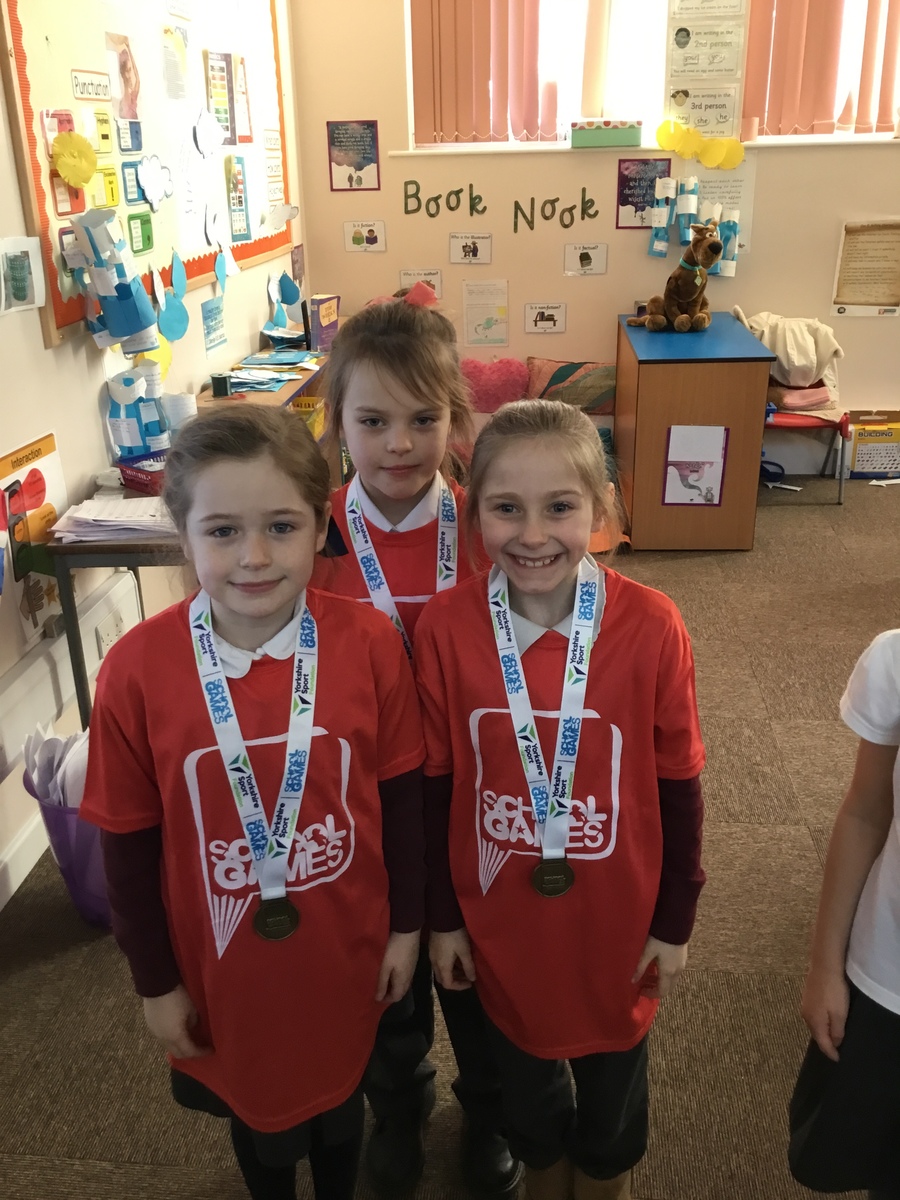 1st february 2018- swimming lessons
Well done Class 8 for completing your swimming lessons for the year. You have represented the school in a fantastic manner and have all achieved a very special award. Swimming is a very important life skill.
22nd January 2018 One Plastic Bag
The Marvellous Macaws have had lots of fun reading our new class book One Plastic Bag by Miranda Paul. We have recycled plastic bags by creating a plastic bag skipping rope after learning about looking after the environment. We had to cut the bags in half, then cut down the seam and attached together three times to get three ropes to plait. The children worked so well in pairs and enjoyed testing out their skipping ropes at the end of the lesson!
15th January 2018 basket challenge
We started a new class book today One Plastic Bag based on a true story. Isatou Ceesay from The Gambia, she broke her basket on her way home carrying heavy fruit. The basket was biodegradable so we researched different materials that were biodegradable and tested how strong they were. Independently the children each made their own basket from a range of materials that were biodegradable. Here are our finished products.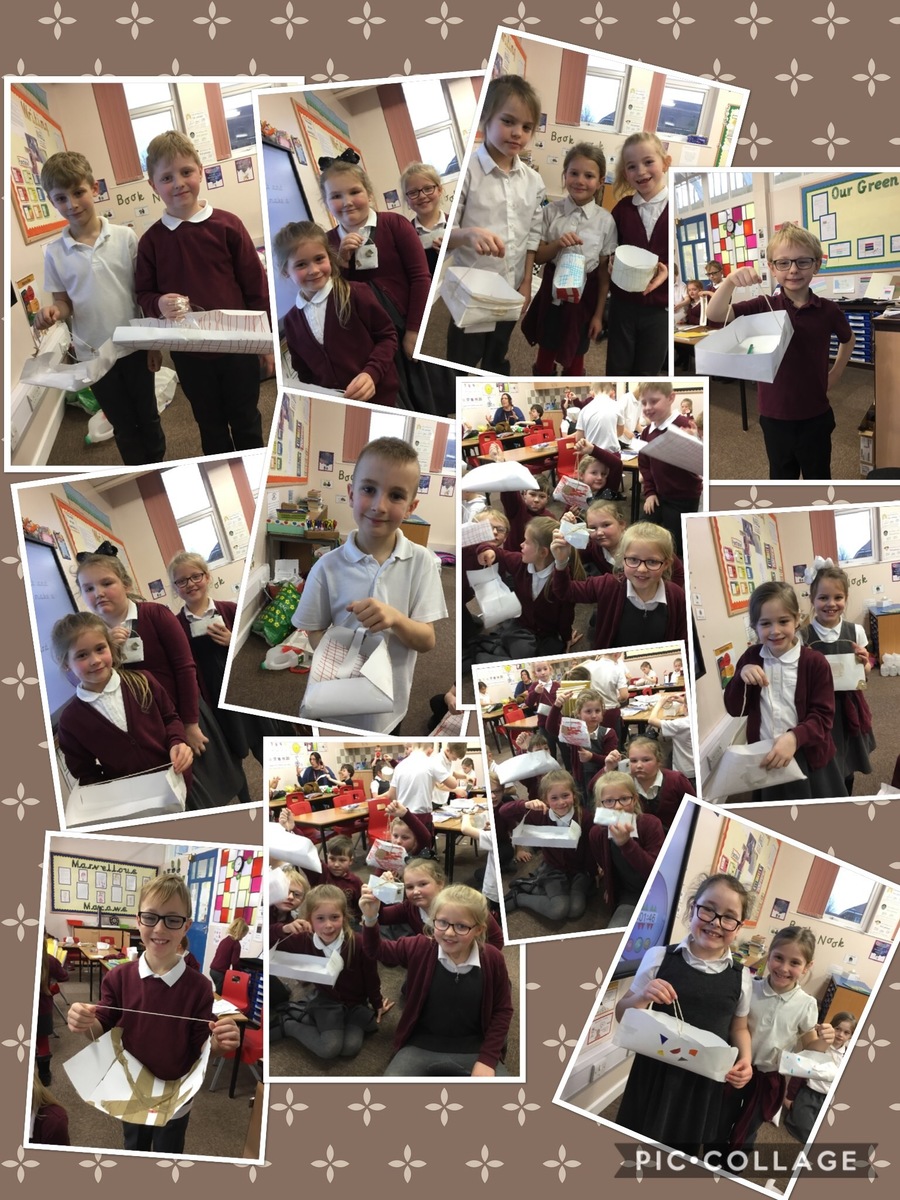 8th January 2018 Welcome Back
After a lovely two weeks off the children have all been very excited to come back! We have started learning about the country The Gambia in Africa. Joshua brought in a traditional outfit for his homework with a fact file all about The Gambia! This is Caitlin and Natalie trying it out! Isn't the material a lovely pattern?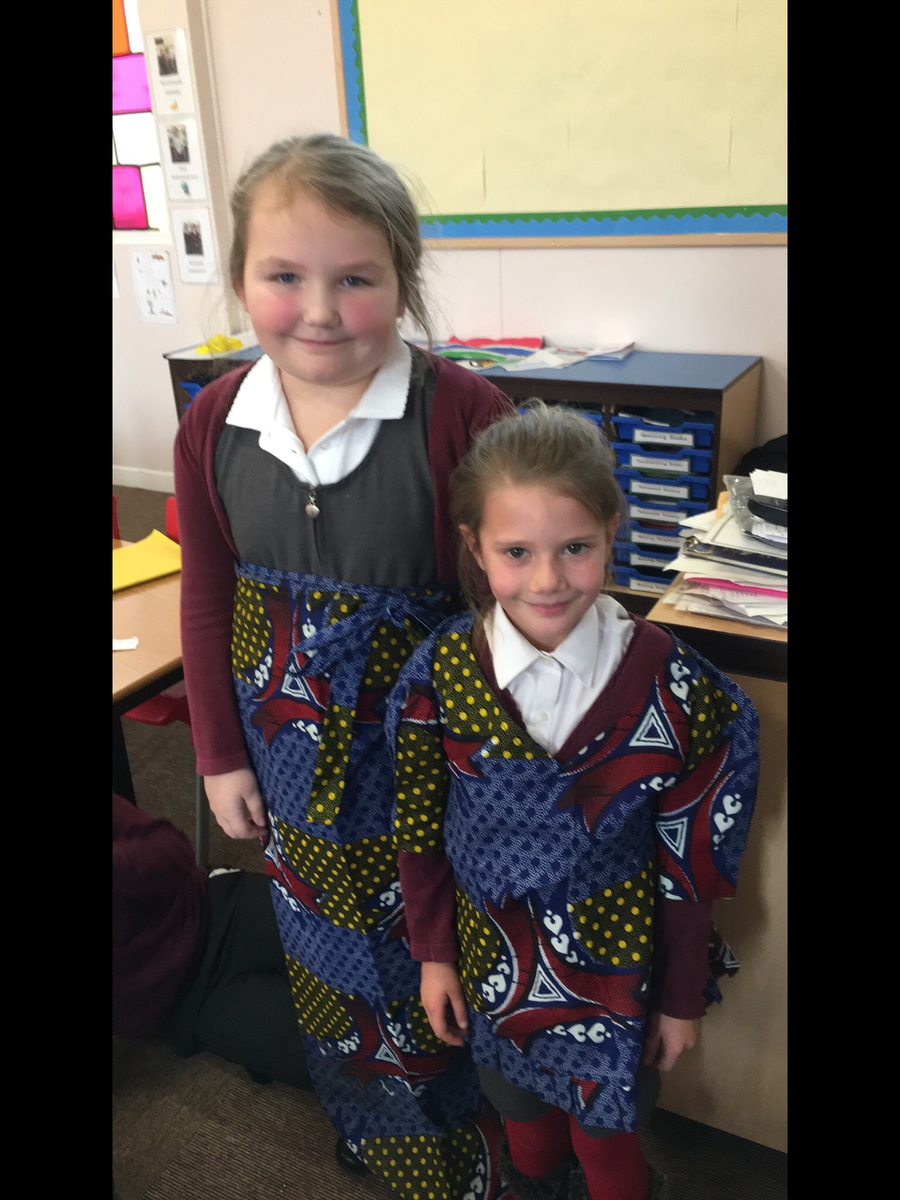 21st December- Christingle Service
Most of the school made a Christingle each to take to church this morning. We learnt about all the different parts and made one step by step. We even got to light them at church! It was a lovely service held by Father David.
20th December 2017- Christmas Party
The children had a fab time at their Christmas party this afternoon! Everyone enjoyed their special Xmas biscuit and drink! They even got an early Christmas present from the school!
18th december 2017-ks2 overall attendance winners
Class 8 were over the moon today; they have won the overall ks2 attendance award which meant every child got to take home a selection box! Well done for coming to school nearly every day marvellous macaws! It has been a close race but they did it! They even said they are very determined to get the spring award too! Good luck Macaws!
12th and 14th December 2017- Christmas Play
BETHLEHEM THE MUSICAL
Well done to all Year 3 and 4 for their fantastic effort in their Christmas Play! Every child had an acting and singing part! Here is a picture of all year 3 and 4.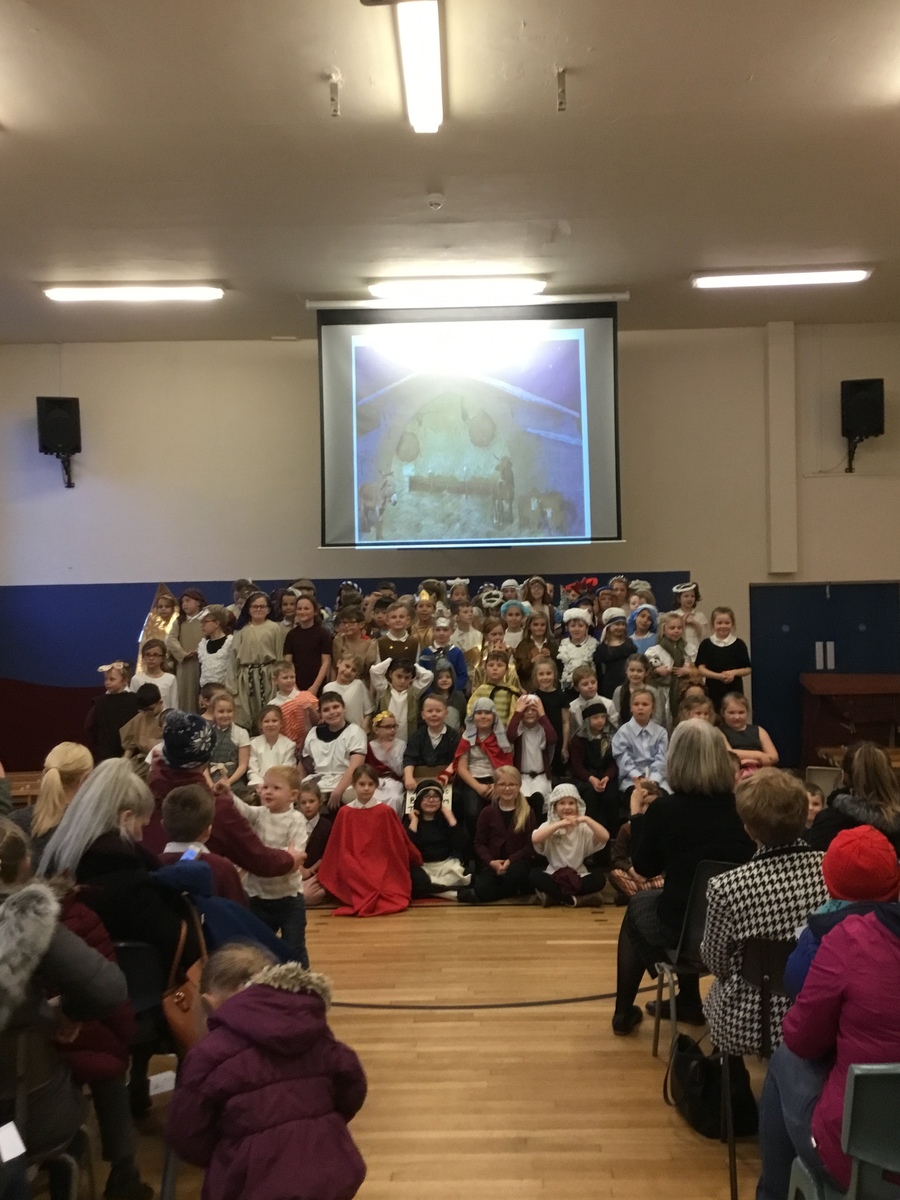 5th December 2017- RE Christianity
We had a visit from Father David today to learn about Christian services at Christmas! It was very interesting and the children learnt a lot about advent, midnight mass and the 12 days of Christmas!
30th November 2017- Performance Poetry
Today, we read a poem by Joseph Coleho called 'A Little Bit of Food'. They discuss and analysed the poem, thinking about how Joseph was as a poet and we thought about what we could tell about him as a person. This was our poem after only 20 minuted practise!
28th November 2017- Christmas Banner
Christmas is finally here! This afternoon, class 8 have been busy preparing our Christmas banner ready to be displayed on the 1st of December in the Hall! We used a range of materials to create lots of different textures! We cut out lettering, chose how to decorate and used all our painting skills from this term to create our master piece! Can you guess what our theme is this year? Clue- it's a Christmas song!!!
23rd November 2017- Arts Charity Concert
Well done to all the children who took part in our first ever arts concert to raise money for guide dogs! In our class, we had the fantastic gymnast Erin, and Riley, Joe, Ella, lailiemay, Joshua, Laney who all took part in various acts.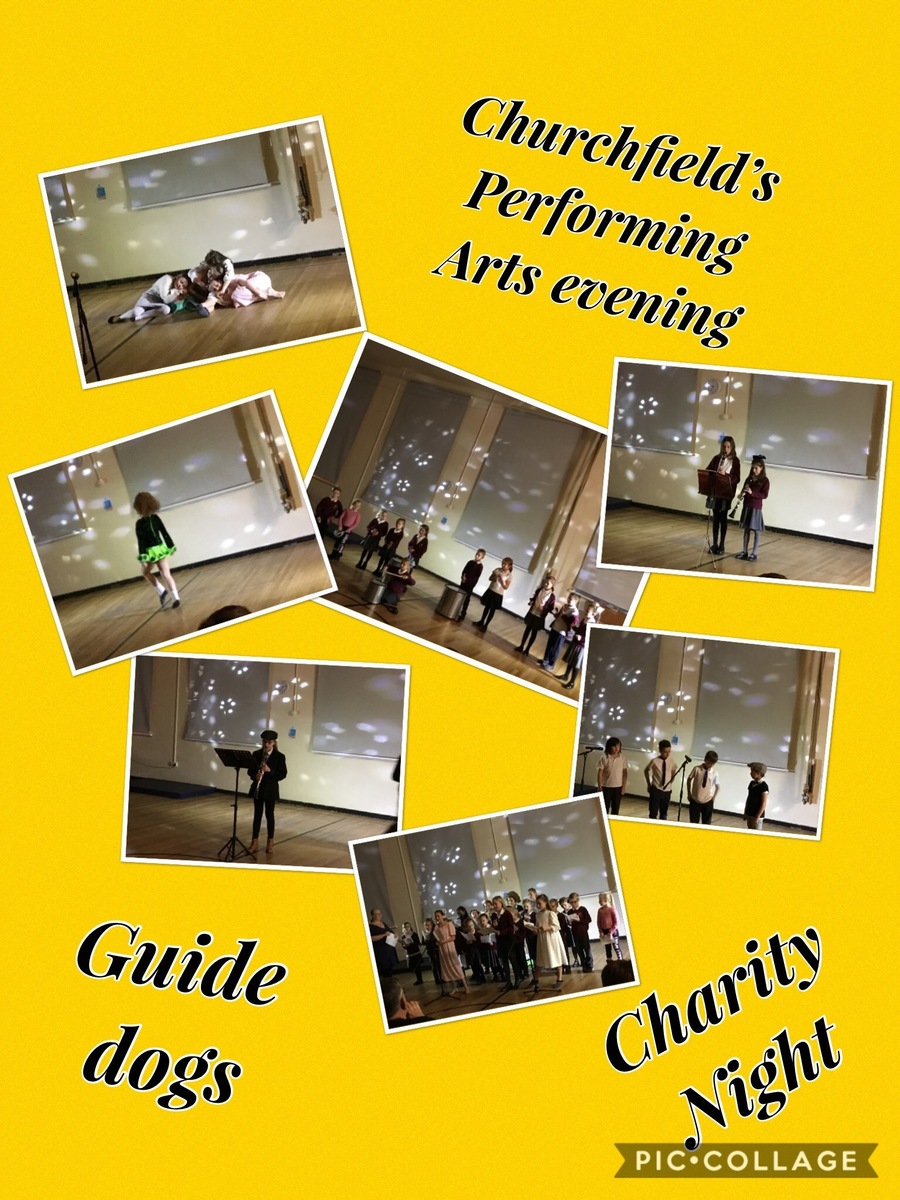 17th November 2017- Children in Need day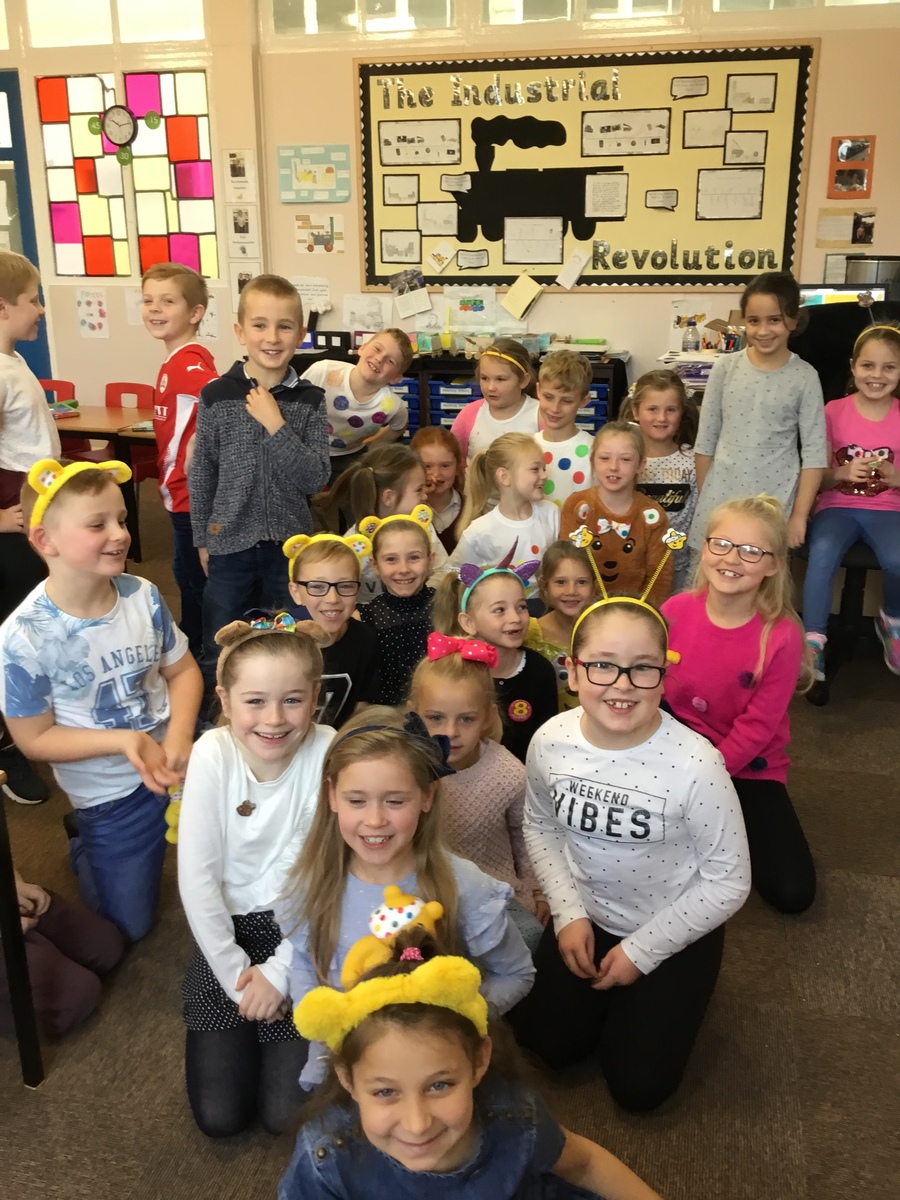 13th November 2017- Attendance Award
FANTASTIC NEWS! CLASS 8 GOT THE ATTENDANCE AWARD FOR 100% ATTENDANCE LAST WEEK!
16th October 2017- Attendance Award
WELL DONE MARVELLOUS MACAWS!!!
Last week, we had the best attendance in KS2 so won the award today!! Fab work, keep coming to school every day and we might win the attendance award for Autumn!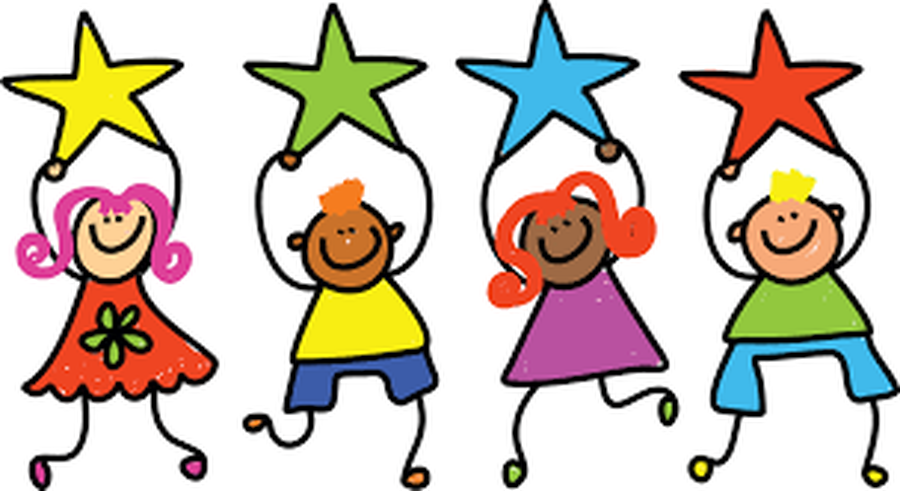 11th October 2017- Harvest Festival
Today was Year 3 and 4's Harvest Festival. We have been learning about Fairtrade and about farmers in developing countries. We learnt about where the food we eat comes from around the world and how we can make a difference with the help of Fairtrade. We were poets and wrote rhyming Fairtrade poetry, designed our own chocolate wrapper, and produced art using a range of mediums. We also created persuasive posters and diaries as if we were Fairtrade farmers in developing countries doing jobs such as banana pickers or tea leaf pickers. We had great fun presenting to all the parents. Thank you for coming and sharing our harvest celebration with you.
5th October 2017- Design and technology week
This week, we have researched different trains in the 19th and 20th century and looked at how they were different and similar. We researched three different trains of our choice and recorded in our D T booklet. In pairs, we had to decide which train we were going to make and designed a prototype of what the train would look like. We used softwood, dowel, wheels, a real saw and a hot glue gun to make the wooden train. We had to follow a set of instructions and measure out our pieces carefully. It was great fun!
Here are the finished products of who have finished, ready for evaluation tomorrow:
Can you spot the Stephenson's Rocket? The Ambulance train? The Mallard? The Bullet?
25th September 2017- Lunch time beads
Well done to the Marvellous Macaws this week on winning the weekly lunch time beads award! They got to choose a treat for behaving so well at lunch times and earning the most beads for last week in the WHOLE SCHOOL! The Macaws chose to have some iPad time which we are going to have on Thursday afternoon! Fantastic work!!
19th September 2017- National Railway Museum
Today, Year 3 visited the National Railway museum in York. We had a fun packed, non-stop day! We took part in two workshops 'Rocket to Bullet' and 'Building Bridges'. We looked at how trains had evolved over the years, and volunteered in lots of different experiments all about force. We also looked at bridges and which were the best structures. We learnt the words 'Gravity', 'Friction', 'Compression', 'Tension' and 'Equilibrium'. Can you remember what they each mean? Look at our photographs of our day.
12th September 2017- Science Week
This week has been SCIENCE week, we have been learning about forces and magnets. We completed an investigation using toy cars and ramps. We tested different surfaces to see which material created the most friction. It was great fun and it taught us a lot about forces. Towards the end of the week, we are going to be investigating which materials are magnetic and non-magnetic.
7th September 2017- Welcome back
Welcome back to the Marvellous Macaws. We have had a very busy and exciting week! We are going to the National Railway Museum on the 19th September and we are all so excited to see Stephenson's Rocket in real life. There has been some fantastic homework brought in!
We have also chosen our new leaders for the school year 2017-18
School Council: Joshua and Maya
Eco- Ambassador: Kian
Fair trade Leader: Harry and Laney
Well done to everyone who applied and did a fantastic speech in front of the class! It was so hard to choose!