skeleton challenge - May
This week, we have been learning all about the human body in particular looking at the skeleton. We had to put together all the bones we were given to create a skeleton with no help! It was tricky, especially knowing where the Ulna, Radius, Tibia and Fibula went! It was great fun and we can't wait to learn more!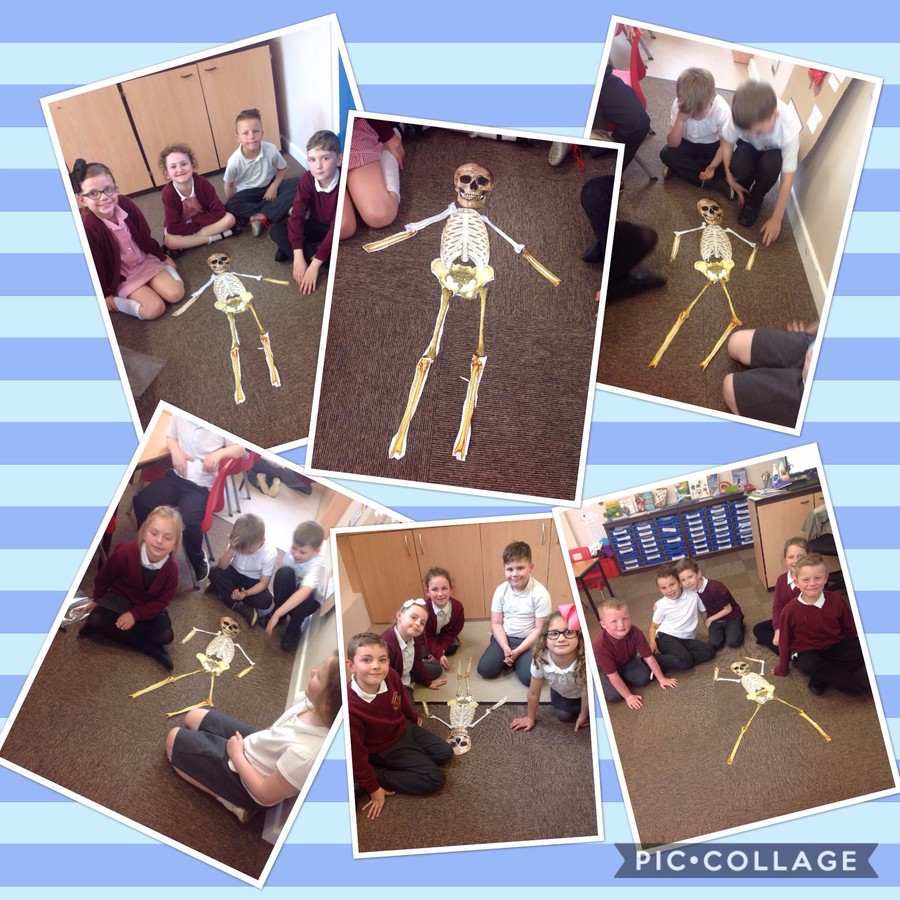 The Deep Friday 28th April
As part of our new whole school topic, 'Life Around Us', Year 3 are learning about animals including humans. As part of our learning, the children got to visit The Deep in Hull. It was a fantastic day! The children had the chance to explore the breath-taking aquariums, complete an animals adaptations workshop and watch a dive show. The best part of the day was walking through the underwater tunnel and taking a ride in the scenic lift.
Viking day Tuesday 21st March
The children had a fantastic time during Viking day. They each designed and made a Viking shield and came dressed up as a Viking. Also, the children built a lifestyle Viking hut using a weaving technique. In addition to all this we had a real fire!!! We got to cook dampers over the fire and pretended we were Vikings. At the end of the day, we all came together and tried some Viking stew. It had beef in it (Ox tail) and vegetables. It was yummy!
World Book Day- Friday 10th March
We celebrated World Book Day a week later, on Friday 10th of March. We all came to school dressed as a character from our favourite book. We spent the day doing book related activities using the book 'The Great Dragon Rescue' by M.P Robertson to inspire us. We created some excellent character descriptions of the Witch in her home in the woods, and some fantastic artwork of the dragon using a range of art materials such as water colours, oil pastels and colouring pencils. It was a brilliant day!
Spanish Day 7th February
Today, we had a Spanish Day and we completed a range of activities such as food tasting, Spanish Bingo, blind football and Flamenco Dancing. It was great fun! We all dressed up wearing the colours of the Spanish flag: red and yellow. We also had a special Spanish menu for our dinner which consisted off Paella and Omelette. It was gorgeous! We had a great day and all learn lots of Spanish. Adios!
Roman Architecture and Mosaics- w/c January 16th
This week, we have been learning about Roman architecture. We looked at all the different Roman buildings such as Roman temples, baths and aqueducts. We thought about if we had seen any in Britain and if any were still standing today! On Monday, we had a TASC afternoon where we had to build a Roman building using different joining techniques- and make sure we included a Roman feature e.g. Columns.
The rest of the week was a Design and Technology week, where we designed a mosaic tile for the Roman Emperor Claudius' bath! We had to give reasons to why he should choose our design. We then created the mosaics. It was great fun!
Introduction to romans- Jan 2017
The last two weeks have been very exciting in Year 3! We all had to be archaeologists and carefully dig around some artefacts. We then had to guess which time period they were from using the clues- it was the ROMANS!
We also had a special visitor, a Roman Emperor Claudius, who told us all about his life and his quest to conquer Britannia! We all got to ask him questions to find out more about him.
Christmas Party 14th December 2016
Year 3 and 4 had their party this week! It was a fun filled afternoon. Everyone enjoyed playing pass the parcel, corners and we even gave prizes for the best dancers. Everyone looked fab in their best party clothes. We then went back to the classroom and had a shortbread Christmas tree biscuit and a drink of juice. Santa had even been and left us all a gift under the Christmas tree! All the children behaved fantastically! We hope you all have a very Merry Christmas and a Happy New Year!
KS2 War Museum 22nd November
Year 3 and 4 enjoyed creating the World War 2 Museum. It was fantastic! We even had a special visitor who brought his Willys Jeep for us to have our photograph taken in. He also brought a selection of guns from the second and first world war. Everyone had at least one piece of work to show off in the museum. We had lots of different sections: WW2 leaders, D-Day, Battle of Britain, Battle of Dunkirk and The Blitz to name a few. The children loved being Museum Tour guides for the evening! Thank you to everyone who came!
Fire and Rescue Service 9th November
On Friday 9th November, the Fire and Rescue service came to do a talk to both Year 3 classes. We learnt all about Beeper and his friend Battery and how often we should check our smoke alarms. We also learnt what to do in case of a fire at school, at home and even if we caught fire! We had to shout STOP, DROP, ROLL as loud as we could so we could remember what to do. Lukas even had to act it out! It was really funny. We all learnt lots of very important skills.
Don't forget to do the fire survey at home and bring it back to achieve your certificate!
Kelham Island Museum 20th September
All year 3 and 4 went to Kelham Island in Sheffield. It was a fantastic day! We took part in three different workshops with Arthur, Betty and Henry! We had to help Arthur go through the lost property at the train station and find out who the suitcases belonged to. With Betty, we looked at all the artefacts in the museum and got the see the River Don Engine actually working! Lastly, Henry Walker showed us what it was like on the Home Guard. We all went inside an Anderson shelter and listened to Chamberlain's speech and we could hear bombs exploding! It was so much fun! We wish we could go back.