YEAR 3 AND 4 RELAYS
On Wednesday, 30 Year 3 and 4 children took part at a TeamActiv Relay Competition at Outwoood Academy Carlton. The children were split into 3 teams, where they competed in a variety of relay activity races. All 3 teams, were outstanding, in both their sporting abilities and their behaviour. One of our teams even finished second, claiming the silver badges! Well done to all those who took part, and an even bigger thank you to all those parents who were there to support us!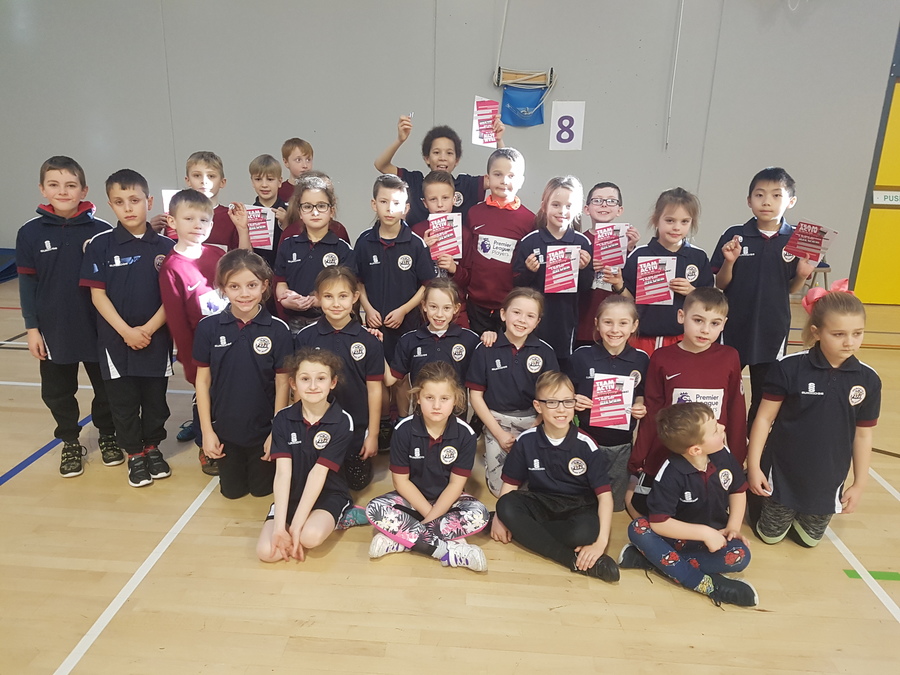 RECYCLED SKIPPING ROPES
This week we decided to make use of discarded plastic bags, and recycle them to make some playground equipment. Inspired by Isatou Ceesay and the women of Gambia from our class book, we used plastic bags to create skipping ropes. We cut the bags, attached them together, and plaited them to create fantastic skipping ropes! After we had made them, we went out into the playground to test them out. We had so much fun making them, and even more using them! We plan to use them at playtime..... what a fabulous way to recycle!
Thursday 21st December 2017 Christingle making and service
This week we have learnt all about the importance of the The Christingle service to Christians, understood what each part of a Chrisitingle represents and made our own Christingles, to light at our service at St John's. Christingle means 'Christ light' and is used to symbolise Christ as the 'Light of the world'. We made our own Christingles in the classroom using: oranges, dried fruit, sweets, cocktail sticks, red ribbon tape and finally a candle. We took them to the service at St Johns's, where we lit them. It was a beautiful service, where we sang carols and spoke about the birth of Jesus.
12th and 14th December 2017 Christmas Play
BETHLEHEM THE MUSICAL
Well done to all Year 3 and 4 for their fantastic effort in their Christmas Play! Every child had an acting and singing part! Here is a picture of all year 3 and 4.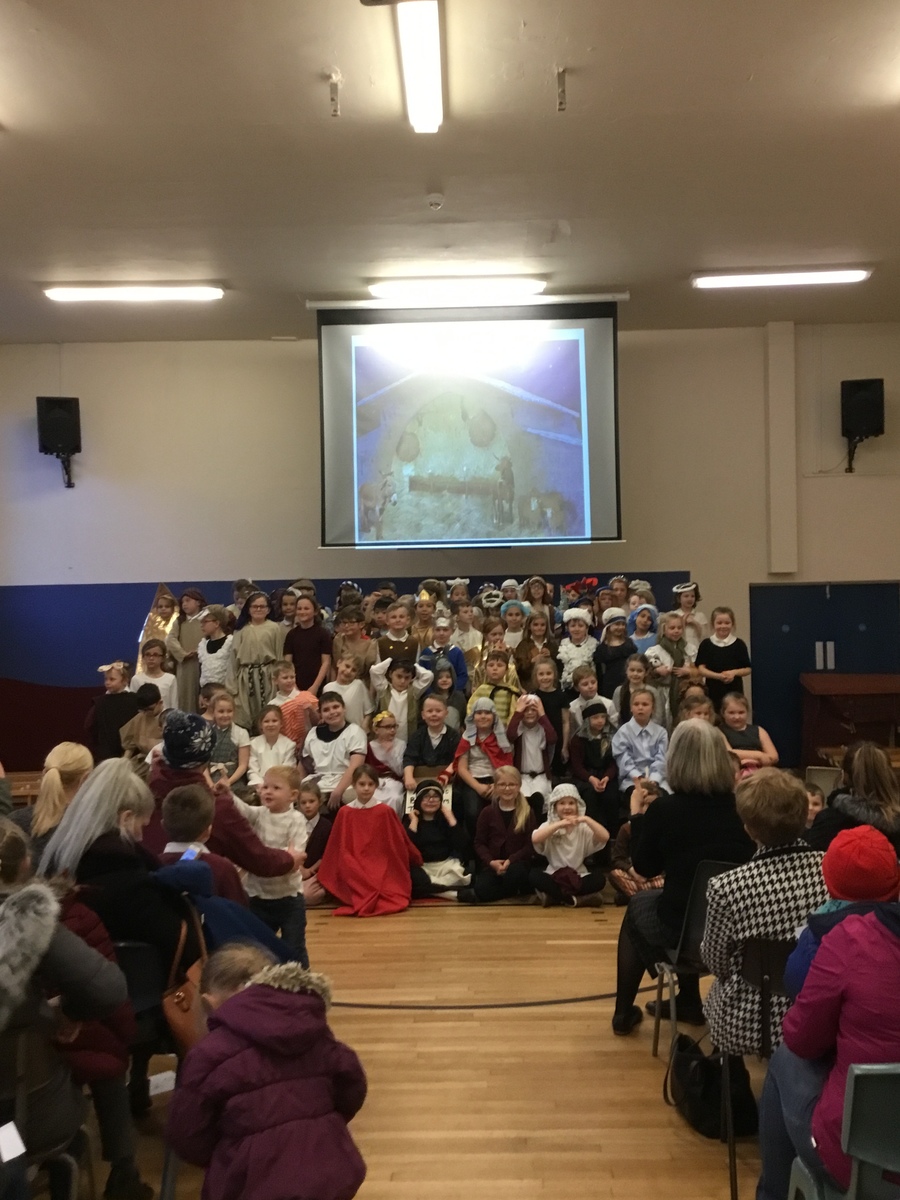 thursday 23rd November 2017 ARTS CONCERT
On Thursday, Churchfield held its debut Arts Evening, where is showcased a variety of our children's talents in the arts, raising money for our chosen charity 'Guide Dogs UK'. It was fantastic to see so many 'Gifted Gorillas' taken part! Jenna represented our class brilliantly in the school choir, Daisy played the agogo bells in the samba band, Brooke did some very cool rapping in her performance poetry piece, and Amelia performed a sensational dance inspired by Willy Wonka! What an evening of outstanding talent! Below our some pictures of their performances.
THURSDAY 16TH NOVEMBER 2017 GIFTED GORILLA GUITARIST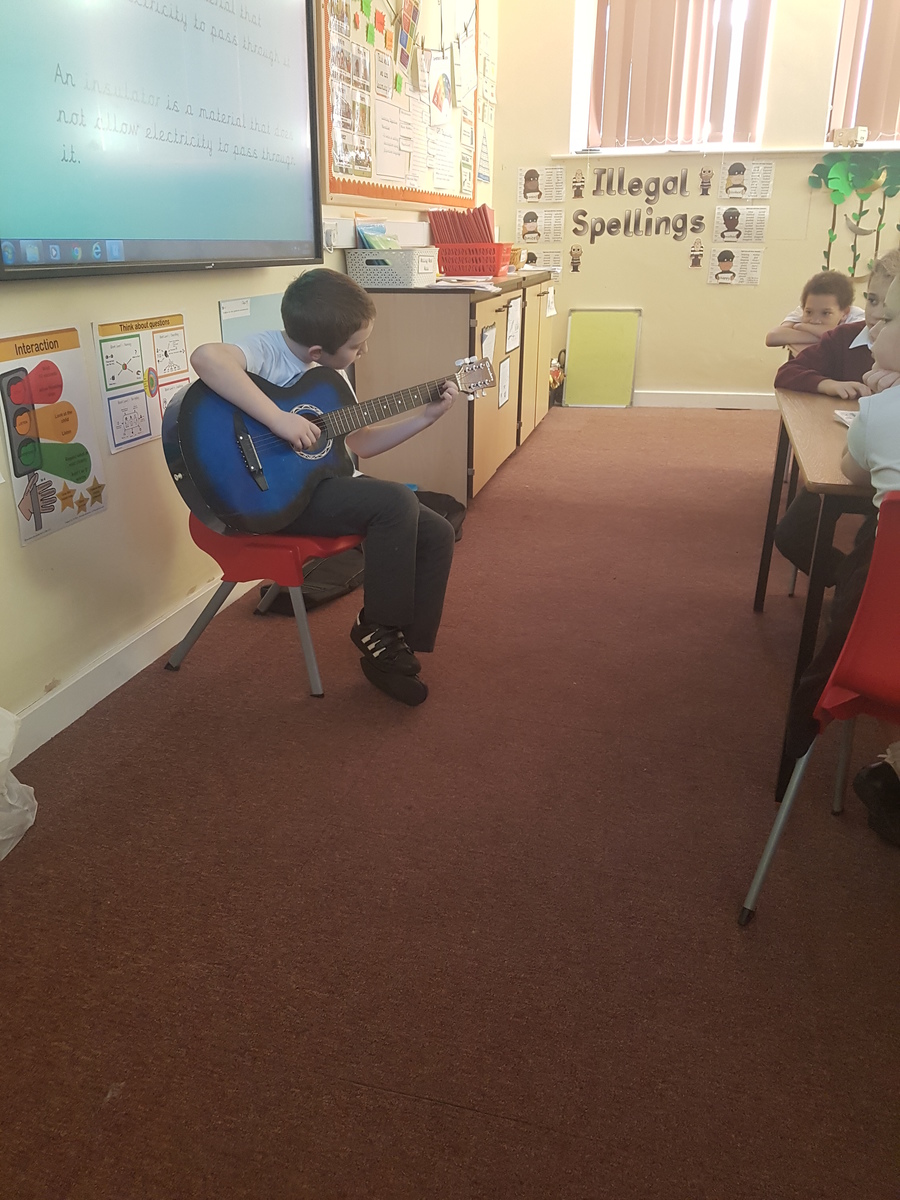 The Gifted Gorillas were very lucky this week, when one of our members brought in his guitar to show us. Oliver showed us all his beautiful blue guitar, told us about the lessons he has started and even played us some notes he had learnt! We were all really impressed with him, keep it up Oliver!
Wednesday 15TH NOVEMBER 2017 SCIENCE
This week in science, we have been looking at electricity. We were given some equipment, and asked by Miss Wigston to try and make the bulb light up. Every group, eventually, got their bulbs to light up by creating a full circuit. We were then given a variety of drawn circuits, and we had to predict whether or not they would light the bulb up, offering reasonable explanations for our predictions. Finally, we tested them out, using batteries, bulbs, wires, motors and buzzers! We had lots of fun and are looking forward to the next part of of electricity topic; conductors and insulators!
WEDNESDAY 18TH OCTOBER 2017 sharing assembly
This week was our sharing assembly. We really enjoyed sharing a variety of our learning with you, including: art work, recounts of our trip to the NRM, photographs from our trip, instructions of how to make chassis and our final products from our DT week. We hope you were impressed our performance poetry,'Since I brought my Gorilla to school', which we all learnt off by heart. A big thank you to all who came to share our learning! We can't wait to share more with you!
6TH OCTOBER 2017 DT WEEK
This week has been DT week and we have improved our designing and woodwork skills. We began the week researching existing vehicles, in particular trains from the late 19th and early 20th century. We used this research to support the designing of our own prototypes. After designing 3 prototypes, we made our chassis, putting our carpentry skills to the test. We worked in partners to create our perfect designs, improving our skills in measuring, and learning new skills including using a saw and a glue gun. We learnt how to strengthen our chassis using triangular shaped card. We really enjoyed using the tools, and are looking forward to making the nets for our chassis next week!
29TH september 2017 FAIR TRADE WEEK
This week we have been getting ready for our Harvest Celebration. As we are a Fair Trade school, we have been looking at the importance of it, the impact it has on lives and how we can help support it. We have created a variety of things to share in our Harvest Celebration (so we don't want show you too much on here) but we have really enjoyed it. We have used a variety of skills throughout the week, however our favourite was probably our Fair Trade baking day on Thursday. Even though some of us didn't enjoy what we made, we definitely had fun making it! Come celebrate with us on Wednesday 11th October, to see all of the wonderful work we created!
21st September 2017 Science Week
This week Year 4 have been learning about forces and magnets. We spent Thursday, investigating if different surfaces have an effect on the motion of a car. We used ramps, toy cars, different materials and measuring tape to find out. Below are some pictures of our investigation.
12th SEPTEMBER 2017 NATIONAL RAILWAY MUSEUM
Year 4 visited the National Railway Museum in York. We took part in two workshops, and looked around the fascinating museum! We had such a fantastic day, and we even got to see a replica of Stephenson's Rocket! Below are some photographs of our day!
SEPTEMBER 2017 SUMMER PROJECT HOMEWORK
Over the summer, the children were asked to research and create a project-style homework about 'The Industrial Revolution'. The children have really impressed Miss Wigston with their fantastic work, which includes: models, fact files, canvas art and photographs and writing about their visits to the National Railway Museum! Below is some examples of our outstanding projects.