The Deep
Friday 28th April
Today, Year 3 and 4 went on a trip to Hull to visit The Deep. When we arrived, we went up the scenic lift towards the start of the exhibition. In the scenic lift, we were surrounded by water which was inhabited by many species of fish! Then we explored zones such as the Visions of the Ocean and the Lagoon of Light. We loved the faces that the sting rays were making! After having our dinner, we had a workshop with Sarah about animal adaptations. She even showed us some cockroaches up close!
Later in the afternoon, we explored zones such as Bug Champions and the Kingdom of Ice. It was exciting to see the penguins diving into the water! Finally, we returned to the Endless Ocean to see the sharks been fed by The Deep's divers! Whilst the divers were getting ready, Kainan and Joshua were chosen to try on a diver's mask and flippers! Suddenly, we could see one of the diver's flippers as he entered the tank. He even waved at us before feeding the sharks! We had an amazing day as you can see in these photos:
Frankie the bearded dragon
Thursday 27th April
This week, we started our Summer topic which is Life Around Us and have been learning about classifications of animals. On Thursday, we were very lucky that Mrs Wright brought her pet bearded dragon Frankie to see us! We discovered that Frankie is a reptile and a vertebrate as she has a backbone. We also found out that she is an omnivore because she eats a range of insects, fruits and vegetables. Frankie even let us feed her some live worms!
viking day
Tuesday 21st March
Today, Year 3 and 4 had a Viking day where all children experienced life as a Viking. We dressed up as Vikings and took part in a range of practical, exciting activities. First, we designed and made our own Viking shields to protect ourselves. Outside, we worked together to make the roof structure for Year 3 and 4's Viking longhouse and we got to find out about some Viking artefacts including jewellery and a Viking drinking horn! At the end of the day, we made dampers and stew to eat around the fire! Here are some quotes from the children about our Viking Day:
Joshua: "I loved making the shelter because we got to lift logs and see things from the Viking times."
Jorja: "I've enjoyed making the shields because we got to get messy with the paint and sticky with the tape."
Jayden: "My favourite part was when we gathered around the fire even though it was hot because we got to eat delicious stew."
Trent: "My favourite part was making the dampers. We had to roll the dough into a sausage then wrap it around a stick."
world book day celebrations
Friday 10th March
Today, we celebrated World Book Day and dressed up as our favourite book characters for the day! We enjoyed talking all about our favourite characters by hot seating one another. We even hot seated Alice from Alice in Wonderland (Miss Exley) and read a version of the well-known story. We wrote character descriptions of Alice and the White Rabbit and created our own illustrations of these characters! We had a great day celebrating our favourite books.
VIKING INVASION
Monday 6th March
AD 793.
Just as the Anglo-Saxons think they have successfully claimed Britain, the Vicious Vikings set sail in their longboats in search of riches and land, leaving behind their crowded homelands of Norway, Sweden and Denmark. As intelligent as they were fierce, the warriors targeted the defenseless Monks of Lindisfarne Monastery.
The Peakes became Vikings and acted out the intimidating invasion using freeze frames.
Anglo-Saxon houses
Thursday 9th February
We have been learning all about Anglo-Saxons settlements and what their houses were like. We used a range of materials including clay and dowelling as well as techniques such as weaving to make our very own Anglo-Saxon houses. We can't wait to put them all together as our very own Anglo-Saxon village.
Spanish Day
Tuesday 7th February
Today, we had a Spanish Day and we completed a range of activities such as food tasting, Spanish Bingo, blind football and Flamenco Dancing. It was great fun! We all dressed up wearing the colours of the Spanish flag: red and yellow. We also had a special Spanish menu for our dinner which consisted off Paella and Omelette. We had a great day and all learnt lots of Spanish.
Great hall crime scene
Monday 30th January
AD450
The Anglo-Saxons have landed ashore our beautiful, desolate island. With the Romans fleeing our land and retreating back to their mighty city of Rome, the Anglo-Saxons claim the precious, lush soil of Britain.
Along with our new topic, comes also a terrifying tale of beasts and heroes. In order to discover our gripping novel, we first had a mystery to solve! An unknown creature from the marshlands of Heorot, terrorised our Great Hall and left behind a trail of destruction. Never the less, our trusty year 3 and year 4 children were on hand to make sense of the evidence... Who will sleigh this mighty creature, do I hear you ask?
Beowolf!
roman mosaics
Thursday 19th January
Emperor Claudius has commissioned a group of designers to create a mosaic pattern that can be used in his new, imperial bath! We took on the challenge! We decided that it would be a good idea to design several drafts so that we could share ideas and improve our mosaics. We then paired up and created a final design. We then worked together to create our mosaics for the Emperor.
I'm sure Emperor Claudius will be pleased with his team of designers for these wonderful, intricate mosaic tiles! Well done Peakes!
Roman architecture
Monday 16th January
This week, we have been learning about Roman Architecture! First, we found out how the Romans built their magnificent architecture including temples and aqueducts. We used what we'd learnt to make our very own Roman structures using a range of joining techniques .
special visitor!
Monday 9th January
This morning, we found out that a special visitor was coming into school especially to see us! It was Claudius, the fourth Roman Emperor. He had travelled through time not only to tell us lots of interesting facts about himself, but also to ask for our help. He had the dilemma of whether or not to invade Britannia and wanted us to help him to make his decision. Here are some photographs showing the meeting we had with Claudius:
pantomime trip
Friday 6th January
Today, we went to Rotherham Civic Theatre to see Snow White. We loved singing and dancing along! Miss Exley even ended up on stage to help Muddles which the Peakes found very funny. It was a great show!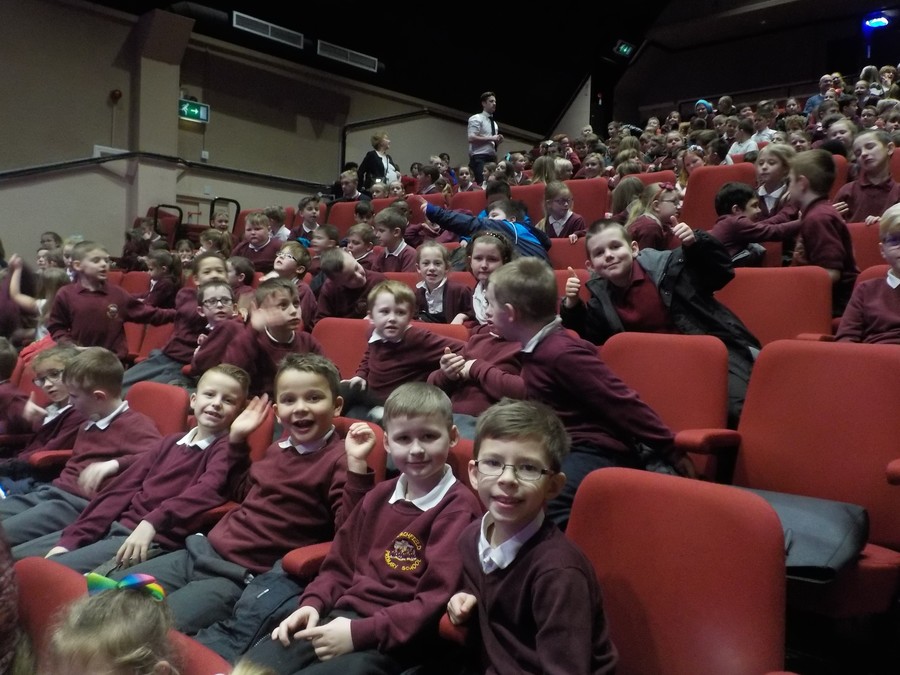 ARCHAEOLOGICAL DIG
Tuesday 3rd January 2017
Today, we found out that our topic this term is Invaders and Settlers. To find out more about what we're going to be learning about, The Peakes and the Packhams took on the role of archaeologists. We carefully dug in a sand tray to find sources of information that gave us some clues. We discovered an oil lamp, spoon, board game, necklace amongst many other artefacts! We figured out that they were from the Roman times.
christmas party
Wednesday 14th December 2016
Year 3 and 4 had their Christmas party this week! It was a fun filled afternoon. We enjoyed playing pass the parcel, corners and prizes were given out for the best dancers. We then went back to the classroom and had a shortbread Christmas tree biscuit and a drink of juice. Santa had even been and left us all a gift under the Christmas tree whilst we had been at the party! We hope you all have a very Merry Christmas and a Happy New Year!
Identifying the perimeter
Monday 28th November 2016
Today in Maths, we have been learning about what Perimeter is. We worked in groups to identify the perimeters of different objects in the gym, including a tennis racket, table and even ourselves! We used masking tape to mark out the different perimeters. We're now looking forward to learning how to find the perimeter.
ks2 War museum
Tuesday 22nd November 2016
This term. Year 3 and 4 enjoyed creating the World War 2 Museum. It was fantastic! We were lucky enough to have a special visitor who brought his jeep for us to have our photograph taken in. He also brought a selection of guns from the second and first world war. Everyone had amazing pieces of work to show off in the museum. There were models, pieces of artwork and a wide variety of writing. Our work was split up into many sections including WW2 leaders, D-Day, Battle of Britain and The Blitz. Some children even volunteered to be Museum Tour guides for the evening! Thank you to everyone who came! It was a great success.
Kelham island trip
Tuesday 20th September 2016
As part of our World War Two topic, we went to Kelham Island. It was a brilliant day! We took part in three different workshops with Arthur, Betty and Henry! First, Henry showed us what it was like to be part of the Home Guard and we even got to go inside an Anderson shelter! After, we helped Arthur go through the lost property at the train station to find out who the mysterious suitcases belonged to. Finally, we looked at all the artefacts in the museum with the munitions worker Betty. We all then got to see the River Don Engine working! We were surprised at how loud it actually was.
mysterious suitcase DISCOVERED!
Tuesday 6th September 2016
Today, we discovered a mysterious suitcase in school! We peeked inside to try to work out who the suitcase belongs to. Using the clues inside the suitcase, we figured out that it must have belonged to an evacuee during World War 2! Here are some photographs of us investigating the clues:
summer holiday homework
During the summer holidays, we started finding out about our new topic which is World War 2. Some of us made models, whilst others did drawings, fact files and even newspaper articles! Take a look at some of our brilliant pieces of homework below:
Tim peake
During transition week, we learnt all about Tim Peake. We carried out research using Ipads and used this to write non-chronological reports about Tim Peake. We also learnt about the artist Peter Thorpe and re-created Peake's Soyuz Rocket in this artist's style.