WORLD BOOK DAY- mARCH
We celebrated the 20th birthday of World Book Day by dressing up as our favourite characters, from our favourite books. We spent the day, doing a variety of activities, including writing character descriptions, letters to authors and art work based on a beautiful picture book about dragons. We even had the UKS2 winner for best dress, come from our class; Isaac Selby, as the one and only Gangster Granny. Well done Issac, and all the children who made this day possible! Below are some wonderful pictures from the day; can you guess which characters we are?
Star wars maths - February
Year 5 and Year 6 were lucky enough to have a visit from a galaxy far, far away. Through a dramatic performance including dance and music, we learnt all about shape and space in maths. It was a new and different way of learning, and we really enjoyed it!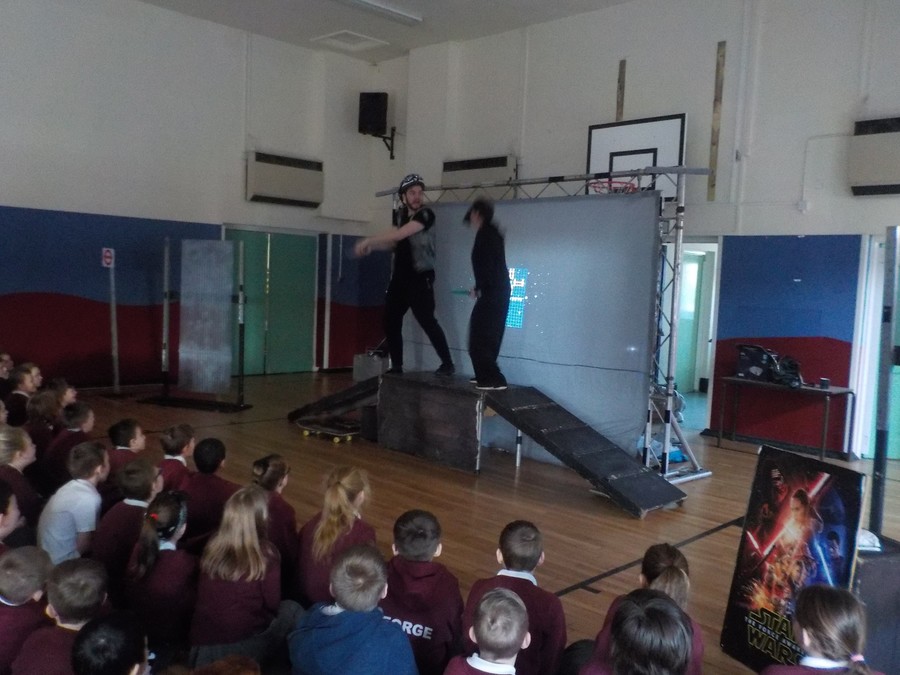 Spanish Day- February
On Spanish day, we explored and experienced different parts of Spanish culture. We did various activities, including flamenco dancing and football but also learnt about Spanish artists and Spanish festivals. We were really adventurous and tried a variety of Spanish food, including cheese, meats and olives. We had a fabulous day, learning all about Spain and Spanish culture! Below are some pictures from the day!
CUDWORTH WALK
Recently, we ventured out of school, for a walk around our local area. We visited various locations in Cudworth, including Cudworth Park and Ring Farm. We looked at places, in particularly, that have changed over the years. For example: Cudworth doctors used to be a swimming baths and there used to be a cinema in Cudworth which is now a toy shop! We used maps to direct us around the area, and located various places on the maps. Below are some pictures of our journey.
Discover Britain
Our Topic this term is 'Discover Britain'. It is a geography based topics with some elements of history. We will be learning all about our local area and how it has developed over time. We will also be doing lots of map work, learning how to draw them, use them and understand them. We will look at the differences between locations across the UK, both human and physical differences. Our topic will allow us to be outside of the classroom, exploring our locality.
World War One Workshop
We recently were lucky enough to have a World War One workshop. We were all given a character to play for the day, each named after one of 'The Barnsley Pals.' After signing up for the war, we were shipped over to France to take part in basic training, where we learnt how to use a rifle and bayonet. After that, we wrote letters to our loved ones, but learnt how most of the information would've been censored. Next, we were sent to build the trenches, and even took part in a mock battle, between the German's and the British, using a variety of mock weapons including bayonets, rifles and land mines. We finished the day, learning what actually happened to our character, many didn't return from the war. We had a fantastic day, and here are some photo's of our learning.
Water Aid Harvest Festival
This Year our Harvest Festival was based on the charity Water Aid. Water Aid is a charity that aims to transform lives by providing access to safe water, hygiene and sanitation. We learnt about the importance of clean water, and how many lives are effected from the lack of it. We wrote monologues from the point of view of people Water Aid has helped, we drew African landscapes, just one of the places Water Aid helps, and we cooked our own Ugandan dishes, inviting parents to come and sample them for a small donation. We raised over £180.00. Thank you to all the parents/carers who contributed. Your money, will make a huge difference.