welcome to the charles dickens class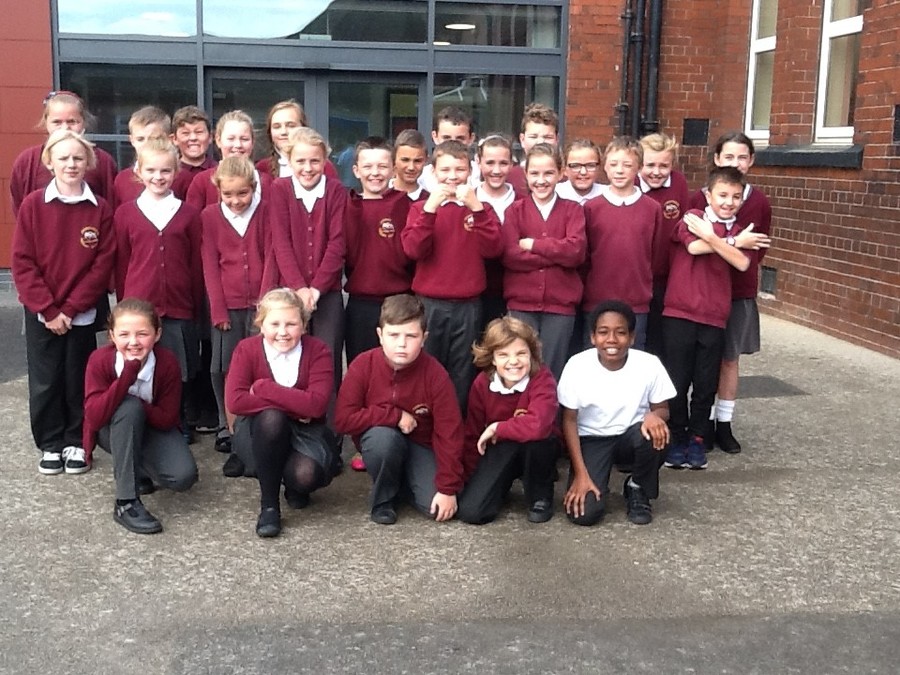 Welcome to our webpage!
Our class teacher is Miss Daniels. We also get the chance to work with Mrs Dryden and sometimes Mr Bean and Mrs Crookes.
We are lucky enough to have one of the brand new classrooms in the impressive new extension - we absolutely love it.
Make sure that you check our site regularly to see what we're up to.
- Class 13 -
9.6.17 - Enterprise Day with Louder Than Life
On Friday 9th June, Year Six worked collaboratively to create a design for a musical playground sculpture. We had to use teamwork skills to complete several activities, including the design of our sculpture. We used our maths skills to calculate budgets, our art skills to design product posters and we used our literacy skills to create a pitch to sell our product. We all had an amazing, creative day.
Well done to the winning team - Levi, Codie, Macey, Isabel, Lewis and Addison - who really impressed the judges and are through to the final on Tuesday 20th June!
EASTER ATTENDANCE WINNERS!
Congratulations, Class 13! Let's see if we can win again next term!
5.4.17 - VISIT TO HAWES, WENSLEYDALE
As part of our 'Discover Britain' topic, we travelled to Hawes in Wensleydale to learn about the geographical differences between two settlements. While we were there we carried out a range of activities. We visited the Wensleydale Creamery to learn how cheese is made and to have a sneaky peak into the actual factory. We carried out an enquiry walk through the town centre and compared Hawes to Cudworth. Then we explored the Dales Countryside Museum and we met a National Park ranger, who taught us all about unique areas and protected species in the United Kingdom.
4.4.17 - lino printing
This morning we all tried something new and had a great time lino printing. We designed and created a logo which could be used by an English National Park. We had to watch our fingers and cut our design carefully, as the tools were very sharp.
22.3.17 - air resistance investigation
This week we have been learning about friction and air resistance in Science.
We planned and conducted a scientific investigation to test different parachutes and to see air resistance in action!
23.1.17 - geographical investigation
This week we have been working collaboratively to draw up a route for where the HS2 could travel. We tried to keep costs low, but we had to think about the human and physical features of an area. Demolishing certain buildings or building new infrastructure (such as tunnels or bridges) cost us dearly!
AWESOME ATTENDANCE
Our class are currently in first place on the attendance chart, with an impressive 2 wins already this term.
Well done - let's keep winning that attendance trophy!
merry Christmas!
We worked collaboratively to design and make our gigantic, German-themed Christmas banner for the hall.
Below you can also see some examples of the cards and calendars that we made for family and friends.
On Thursday the 24th of November, two World War One officers came to visit. We were all given a new identify - as members of the Barnsley Pals. We were recruited and were given a soldier's pay book. We were given some basic military training, which taught us how to attack using a bayonet and how to fight in formation. We even re-enacted a trench battle! At the end of the day, we found out what happened to our character. This gave us an idea of the number of soldiers who survived, were wounded in the war or were killed.
In Science we have been learning about how light travels. To link with our World War One topic, we made periscopes to understand how reflection helped soldiers to see what was going on outside their trench.
Crucial crew - 20.10.16
On Thursday 20th October 2016 we visited Crucial Crew. We learnt all about Internet safety, road safety, fire safety, the dangers of drugs and much, much more. We found out what happens inside a Magistrate's court and we had some basic First Aid training.