SOAR TRAMPOLINE PARK TRIP
Below is the link for the Soar Trampoline Park wavier. Everyone now needs to complete this due to the change of ownership.
https://www.rollerdigital.com/soarbarnsley/waivers/820#/
9th February - ACTIVE MATHS
We had great fun this morning developing our reasoning and fluency skills in maths, whilst being extremely active! We took part in 'Maths Orienteering' and had to use a map to locate a range of questions around the playground, and then find and answer them as quickly as possible!
26th January - Lucky Charms
We used salt dough to create lucky charms for Shackleton's crew. Each charm was specific to that crew member and even had a back-story!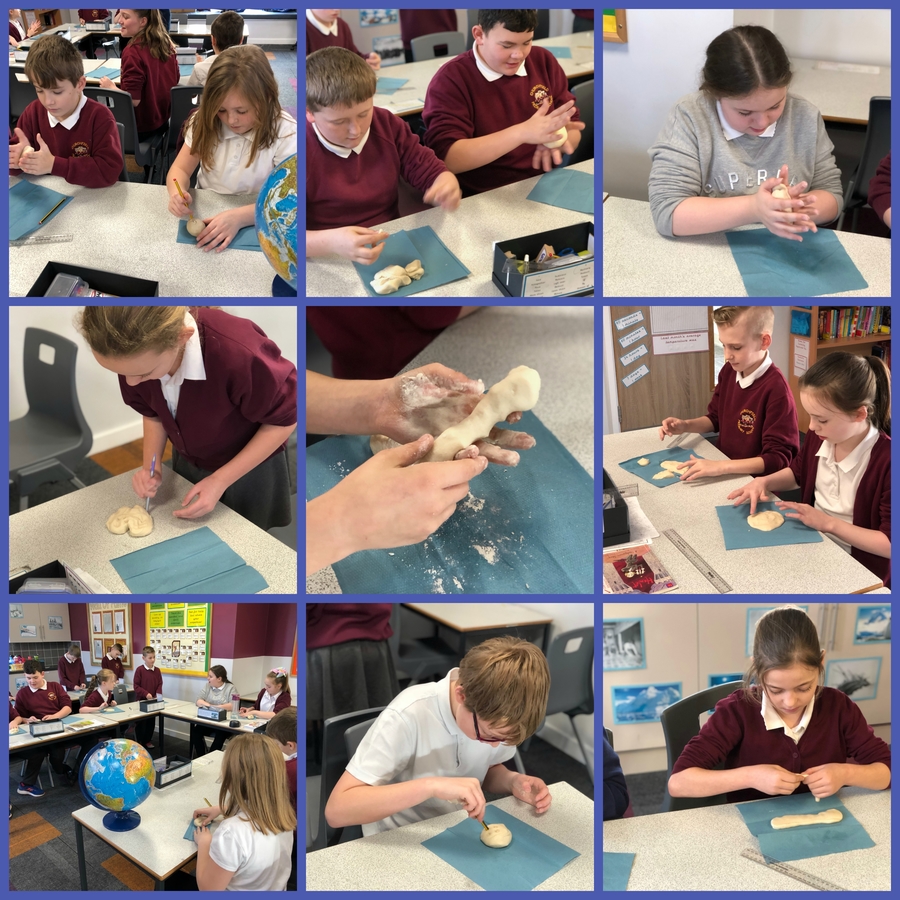 22nd January - Atlas Skills
We used our atlas skills this week to locate the Tropics of Caner & Capricorn, as well as the Polar Circles. We then found countries within these areas and even found the latitude and longitude of cities!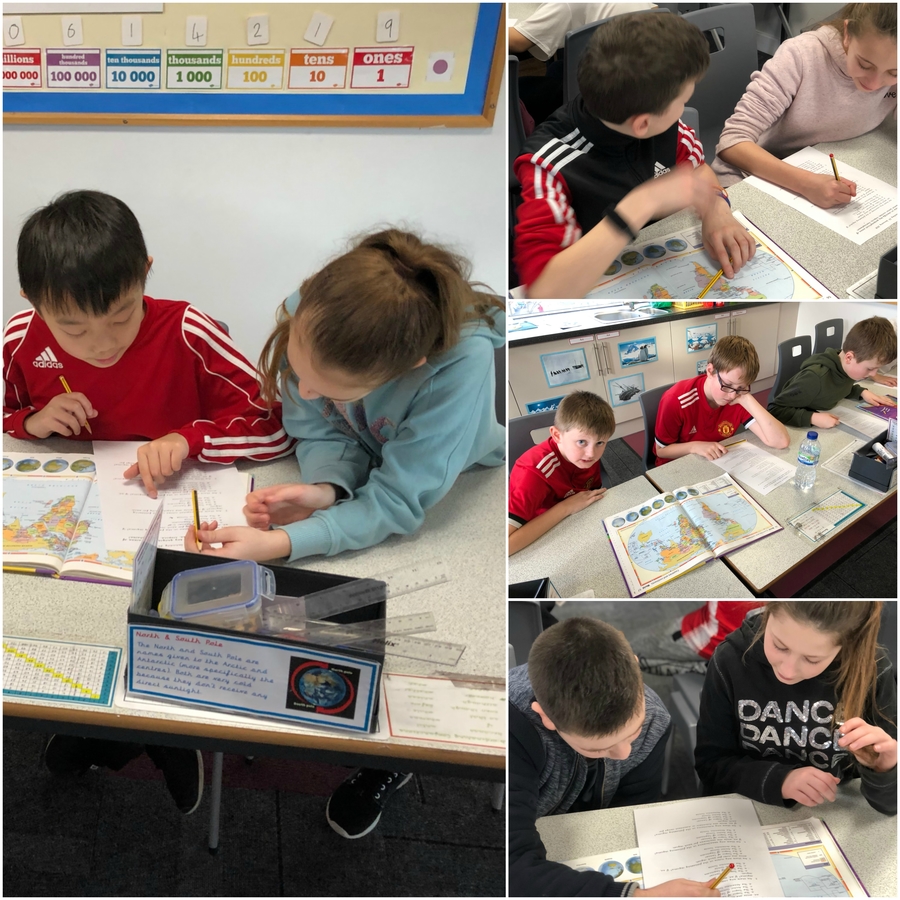 21st December - Christmas
24th November - shocking science!
We have been investigating electricity and circuits this week in science and Made some amazing conclusions! We have created both serial and parallel circuits, and even used a lemon and pear as a power source!
10th November - LEST WE FORGET
Today we remembered all the service men and women who sadly lost their lives in war.
We began our day by making poppies for a wreath which was taken to Father David's church for the Remembrance Sunday Service.
At 11 o'clock there was a two minute silence where we paid our respects to all who gave their lives fighting for our country.
In Flanders fields the poppies blow
Between the crosses, row on row,
That mark our place; and in the sky
The larks, still bravely singing, fly
Scarce heard amid the guns below.
We are the Dead. Short days ago
We lived, felt dawn, saw sunset glow,
Loved and were loved, and now we lie
In Flanders fields.
Take up our quarrel with the foe:
To you from failing hands we throw
The torch; be yours to hold it high.
If ye break faith with us who die
We shall not sleep, though poppies grow
In Flanders fields.
by John McCrae, May 1915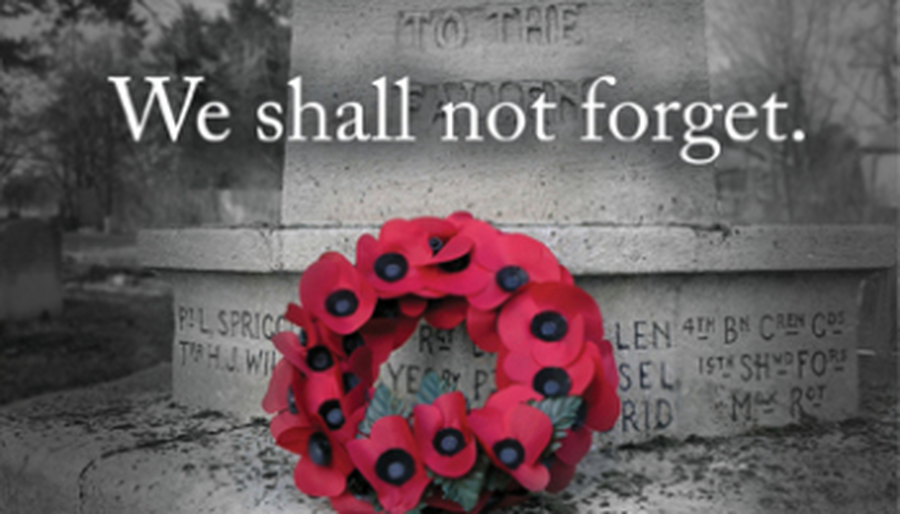 9th November - Welcome Back!
We hope everyone has had a fantastic half-term break! We've had some great entries for our #ExtremeReading challenge! Remember, these photos can be entered by being emailed to the office, brought into school or sent us us on Twitter (@ChurchfieldPrim) using the #ExtremeReading hashtag.
It's a very busy term coming up, with Christmas plays, parties and residential!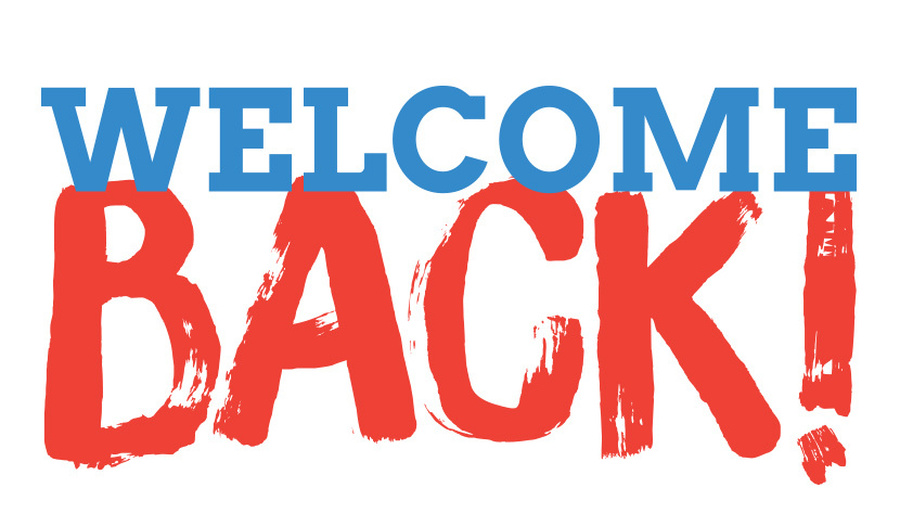 19th October - Red sun Phenomenon
We have had some fantastic discussions this week about the strange 'red sun' we had earlier on in the week. Everyone was intrigued as to what it might have been or what could have caused it. We came up with some fantastic descriptive language to describe what it looked like and even so interesting stories! In the end, it turned out to be dust from the Sahara desert, an incredible 2513 miles away!
13th October - Harvest Festival
We were part of the Y5/6 Harvest Festival this week, and put on a great show for all the special guests and parents! Our work was all based on FaerShare: a great organisation that even has a base here in Barnsley. FareShare work to take waste food from supermarkets and supply it to charities that provide healthy, nutritious meals for those in need. Have a look at the FareShare video below to see some of the great work they do!
28th September - DT Week
What a fantastic week we've had! It's been DT week here in Year 6, and we have been hard at work creating our very own mine shafts and mine lifts using wood, glue and other materials. First we had to saw the correct lengths, and then find a way to make our structures secure! We used a pulley system to make our lifts move up and down. Come in and have a look at our amazing models!
21st September - BIDMAS
In maths, we have been looking at BIDMAS this week. BIDMAS is the order of operations that we use when solving a problem.
Brackets, Indices, Division, Multiplication, Addition, Subtraction.
Here's the challenge for C14 (and parents!):

11th September 2017 - NCM Visit
We had a fantastic time today at the National Coal Mining Museum! As well as going underground in the original mine cage, and having a 'hands-on' tour from a real ex-miner, we also got chance to tour the museum and see a range of fantastic exhibits. We also visited 'Sally Fletcher' and heard her story first hand of how difficult life was for miners, especially children, 200 years ago. We'll be using all the information we gathered next week when we write a non-chronological report.
8th September 2017 - How coal is formed
This week we have been learning about how coal is formed, and where it actually comes from. Did you know that the coal formation process actually started around 350 million years ago in the Carboniferous Period? We made some fantastic story boards to show the process and some of us even wrote a short story from the perspective of a carbon atom!
5th September 2017 - Our Classroom
Take a look at some pictures of our classroom for this year, we've already got some great work on display and room for plenty more. If any parents would like to visit and take a look around our classroom and Y6 unit, we'll be hosting an open night next week. Keep an eye out for a letter with all the dates you need.
4th September 2017- Welcome Back!
Welcome back to a new school year, new term and an exciting new topic! We've got lots planned this term, including the visit to the National Coal Mining Museum on Monday 11th September. Please make sure forms are completed and returned ASAP.
20th August 2017 - Summer holidays
Hopefully all of the Resilient Red Squirrels are having a great time relaxing in the summer break! Remember to find out any information you can about coal mining in Barnsley, you could ask a family member or even visit the Experience Barnsley Museum or National Coal Mining Museum: both are free!
http://www.experience-barnsley.com