PEN LICENSES
Congratulations to the KS2 children who have earned their pen licenses this term:
Hardworking Hedgehogs : Jack D
Gifted Gorillas : Kyle L, Libby R, Corey M and Amelia O
Sensational Sea Turtles : Almira B, Claudia O
Genius Giraffes : Brooke P, Trent W, Will S, Aimee-Jo B, Jacob M
Original Orangutans : Aric W, Ashton E-B, Brooke T, Evie S, Brooke S
Resilient Red Squirrels : Shannon M
celebration Assembly
We had an amazing celebration assembly last week - not only did we announce the winners of the 'Extreme Reading Challenge' we were also lucky enough to have Stephen from Team Activ in to present us with our School Games Gold Award - the third year in a row we have achieved this!
Y6 Residential
Year 6 had an amazing time on the Tower Wood residential! This was the first time we had ever been away for a 4 day residential but all the children were incredible and had a fantastic time! We did everything from ghyll scrambling to kayaking and hiking. Lots of the children even conquered some fears! A feedback sheet has gone out to parents and pupils, and as always, we would love to hear what everyone thought!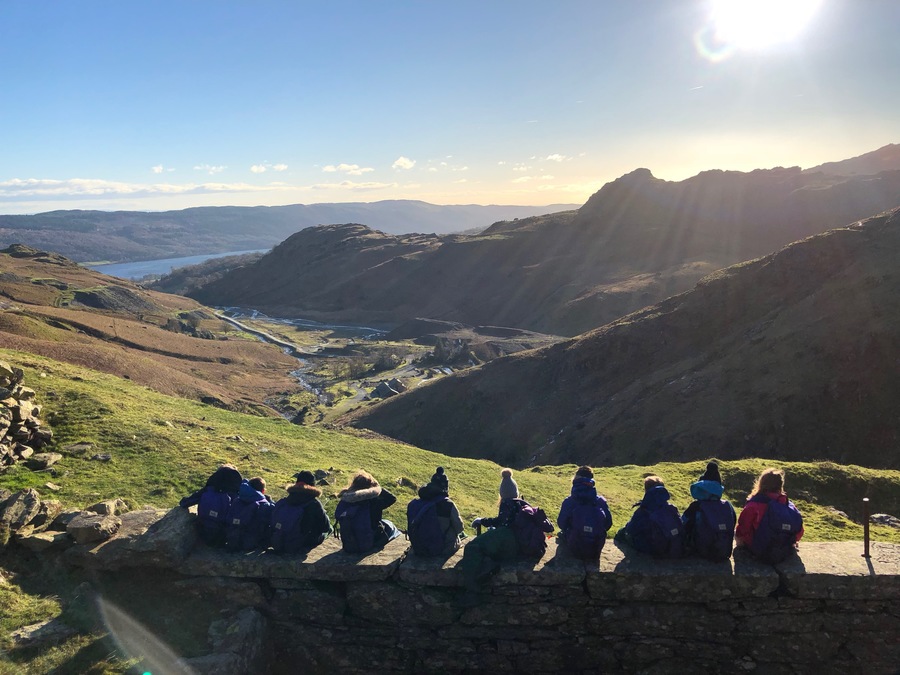 charity ARTS EVENING
On Thursday 23rd November, Churchfield held its debut charity Arts Evening, to raise money for our school council's chosen charity 'Guide Dogs UK'. It was a fantastic night, which showcased the outstanding talents of our children. The performances, which included a variety of dance types, drama, poetry, samba band, piano, clarinets, school choir, gymnastics, musical theatre and graphic design, were unbelievable, and every child who took part should be extremely proud of themselves. Thank you to all who came to support the evening and a huge thank you to those who took part. Along with our bake sale, we raised a magnificent £520.00 for Guide Dogs UK!
Year 6 reading gladiators - competition winners!
Our Year 6 Reading Gladiators entered a competition where they collaboratively produced a piece of art work inspired by the themes in the book 'Children of the King'. The children worked hard on the project and were runner-ups in the competition! For their hard work, they earned £30 worth of books for our Year 6s to enjoy! Well done to Alfie, Ashton, Ava, Brooke H, Callum L, Diesel-Drew, Evan and Jaimee.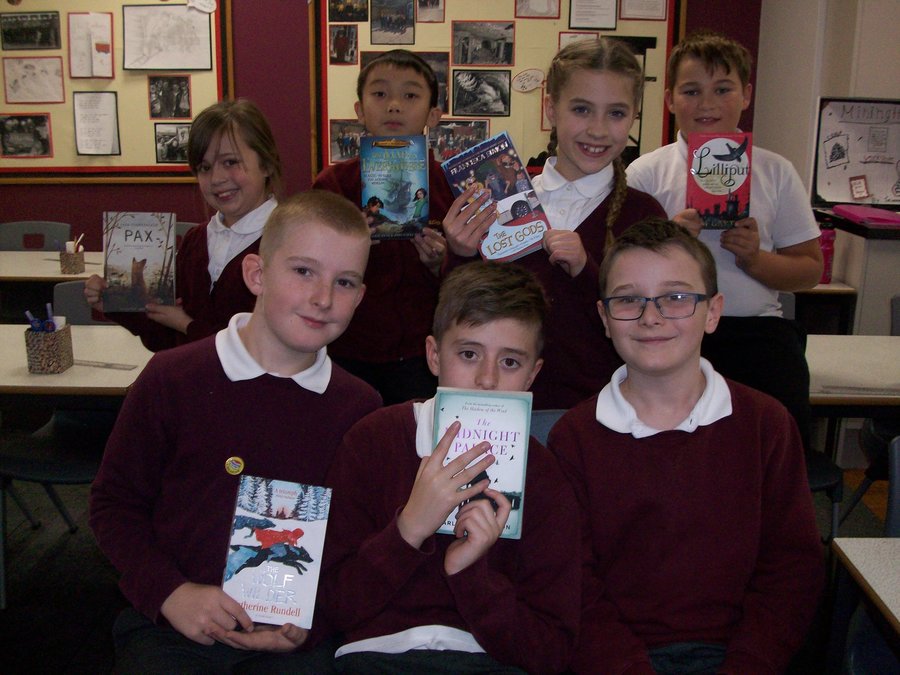 November 2017 - All Different: All Equal week
Our All Different: All Equal week kicked of with a great event organised by the SMSC team. We held an 'odd sock' day, where all children and staff wore odd socks to school. This was to show that although everyone is different, really - we are all the same! Socks might be different and not all the same, but they all do the same thing and are for the same thing. Thank you to everyone that took part!
Grand opening
What a fantastic event the grand opening of our new Y6 unit was! We had a range of esteemed visitors in school to celebrate with us, including Cllr Wraith, Cllr Hayward, Cllr Houghton, the Barnsley Chronicle, Mr Helliwell, Mr Atkin and of course Fr David (who even had the honour of officially cutting the ribbon!). The day doubled up for another celebration too, as we celebrated Fr David's 60th birthday and 20th anniversary of becoming Vicar of Cudworth with a special celebration assembly. The day was a complete success and even featured in the Barnsley Chronicle!
Sports Awards 2017
What a fantastic way to finish the year! The Churchfield Sports Awards, now in it's third year, was a huge success with record numbers of children participating and parents attending: thank you very much! Over 40 awards were given out on the night including our school receiving both the Team Activ Platinum Young Leader Award (becoming the first school in Barnsley to do so!), and being presented with the Yorkshire Sport Centre of Excellence Plaque by Ivy Dorchester-Brown from Yorkshire Sport.
We were very lucky, and honored to have the local and national hero, as well as Olympic medalist, Dorothy Hyman MBE to present our awards too.
Below are the main award winners and a small selection of images:
Sports Personality of the Year - Callum B & Isabel A (joint winners)
Young Sports Personality of the Year - Erin R
Team of the Year - Y5/6 Netball
Barry Helliwell Outstanding Contribution to Sport Award - Alfie Guest
Walk To School Week
Thank you to all the pupils who made our Walk to School Week a huge success! A whole host of our pupils took part and braved the classic British weather; some of our pupils even walked over 4 miles!
Hedgehog Awareness week
Eco-Ambassadors event at the Peace Gardens
On Thursday 4th May, our Eco-Ambassadors from Years 2 to 6 took part in a hedgehog awareness event at the Peace Gardens in Cudworth park. During the event, Janet Mason from Royston Hedgehog Rescue told us that there are only 26.5 million hedgehogs left in the UK, so it is vitally important that we conserve this species. We found out about the Hedgehog Street campaign which is all about neighbours connecting their gardens so that hedgehogs have more environments to suitably live in. Janet also gave us hedgehog top tips such as what to feed them and what you can do in your gardens to help them. With help from Councillor Charlie Wraith, we were also able to put hedgehog habitats and bird boxes around the park. One of the hedgehog habitats was even kindly donated to our school! We had a fantastic time and learnt a great deal about hedgehogs. As a result, we can't wait to share what we've learnt in an assembly to the whole school!
ks2 war museum
On Tuesday the 22nd of November our gym transformed into a museum. Lower Key Stage 2 presented their World War One work and Upper Key Stage 2 presented their World War Two work. Thank you to our museum visitors - I am sure you will agree that the children's work was all of exceptional quality! Also, thank you to our experts - the children - who stayed after school to enthusiastically share their knowledge and answer any questions. We are extremely proud.
Parent Poppy workshop
Thank you to all the parents, children and staff who joined us at the poppy making workshop.
The hall was a hive of activity as parents and children made felt, paper and painted poppies. Some even tried their hand at crochet!
All the poppies went towards creating a 'Sea of Poppies' that was proudly displayed at the Charity War Concert.
PROUD OF BARNSLEY AWARDS & MICHAEL DUGHER MP
We were exceptionally proud this week to receive a letter from none other than MP for Barnsley East, Michael Dugher, complementing us on the fantastic work our school has been doing to support PE & Sport in our area.
We were honoured to be nominated for a Proud of Barnsley Award for School of the Year by a past pupil and their parents. But that's not all! One of our parents has even been shortlisted for 'Carer of the Year' and Mr Bean has been shortlisted for 'Children's Champion' . We'll find out if they won on Friday 18th November, remember to check Twitter too for updates!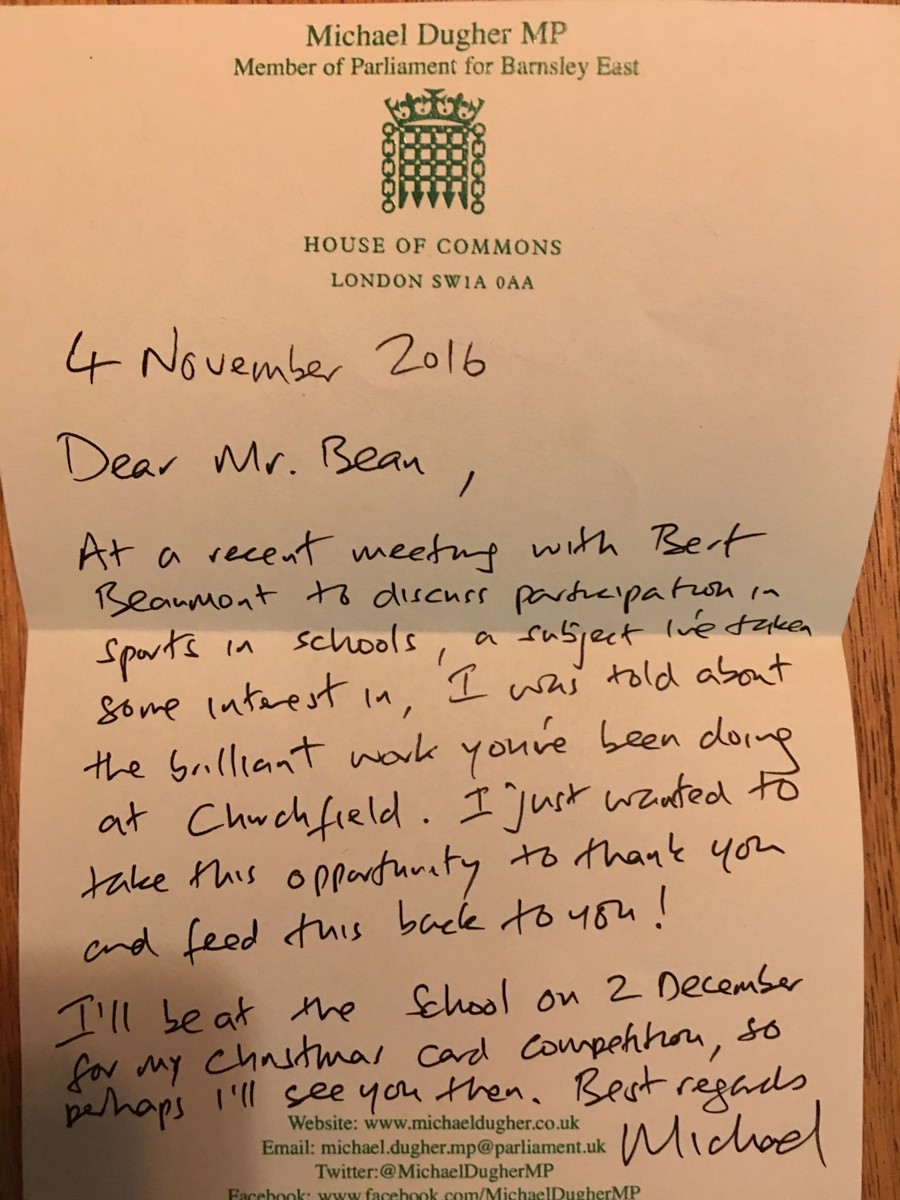 tim peake experience
Saturday 5th November 2016
Remember, remember the fifth of November... Alfie, Archie, Jason, Harvey and Stephanie will certainly remember this day for years to come!
These 5 lucky pupils won a Tim Peake Principia competition to join hundreds of other students at the University of York. They were given the fantastic opportunity to present their work to children from around the UK and meet Tim himself.
With Mrs Gray and Mrs Harris, these five budding scientists took part in talks and an exhibition celebrating everything space... and Tim Peake of course!
This was truly a day to remember. Here are the highlights of the day.
History - Y6 Performance
SHEFFIELD SHARKS HT CUP
Our Y5/6 basketball team put in an amazing performance when they played in the half-time game of the Sheffield Sharks' final home match of the season against Surrey Scorchers. Our team was successful and captured the crown in a thrilling and tense game in front of over 2000 people! We got to meet the team after the match and were even part of the official sponsor photo!
The semi-finals were Churchfield vs Churchfield, which finished 4-2, and Athersley South narrowly edged out Thurgoland in a shoot out in the second semi-final. In the grand final at half-time, baskets from Olivia, Dillon and Bradley meant that we were 8-2 winners! t was a brilliant night, topped off by a fantastic 101-77 win for the Sharks too! The full game is below, along with the full Sharks game to watch too.
James Denny visit
We held our sponsored fitness session with Team GB diver James Denny this month. Every class in school had the opportunity to join James in an intense fitness circuit. James held a Q & A session afterwards and our pupils asked some brilliant questions. James even demonstrated a backflip to us! From the money raised, a portion will go to charity, some to helping James reach Rio 2016 and an amazing £1007 will be coming to our school for new equipment. We'd like to say a huge thank you to all pupils and parents for making this event such a success!
Sheffield Sharks vs Plymouth RAiders
Our basketball team and some Y5/6 pupils went to watch the Sheffield Sharks on Friday night (29th January). The game was a league match against Plymouth Riders, and was a brilliant but close game! Even some members of the team and people from the crowd came to congratulate us for our brilliant cheering, and after the game all the players stayed behind for photographs and to sign programmes! Our championship winning basketball team were special guests and even got a shout out from the commentator. There was some brilliant analysis by our great players, and the games ended in a Sharks victory (74 - 68).
London Residential
We had a fantastic time in London this month! The school council residential even visited the Houses of Parliament and the natural history museum. The group even got the true London experience by travelling around on the tube! One of the highlights of the visit was the Charley and the Chocolate factory show on the West End. The performance was incredible and loved by all!
"I loved the singing and all the different props, it was just like I imagined in the book!" - Maddie W
"The Houses of Parliament was amazing, seeing where all the decisions are made and finding out all the facts was brilliant" - Olivier A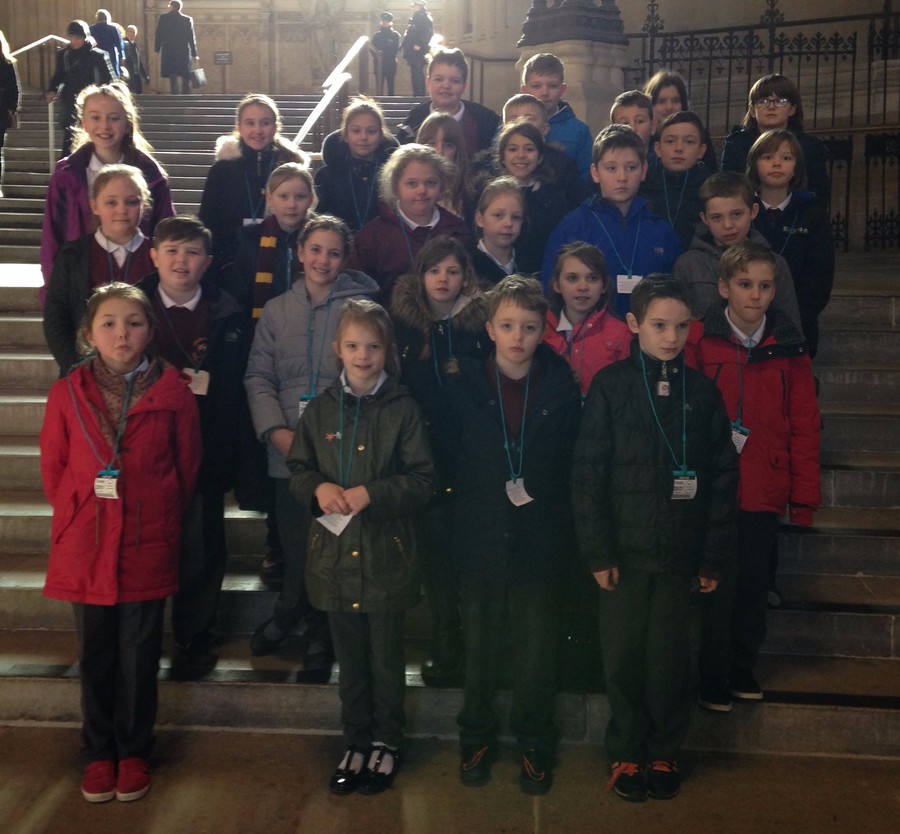 ANDY SEED
We were very lucky this past week, to have Blue Peter award winning author, Andy Seed in school. Andy worked with all KS2 classes, signed books and even performed the grand opening of our brand new library!
Provide Education
We were the lucky winners of an amazing £100.00, courtesy of Provide Education today! The money we have received will be going directly into the attendance prize fund, to be able to provide even more gifts and incentives for all our pupils who achieve 100% attendance.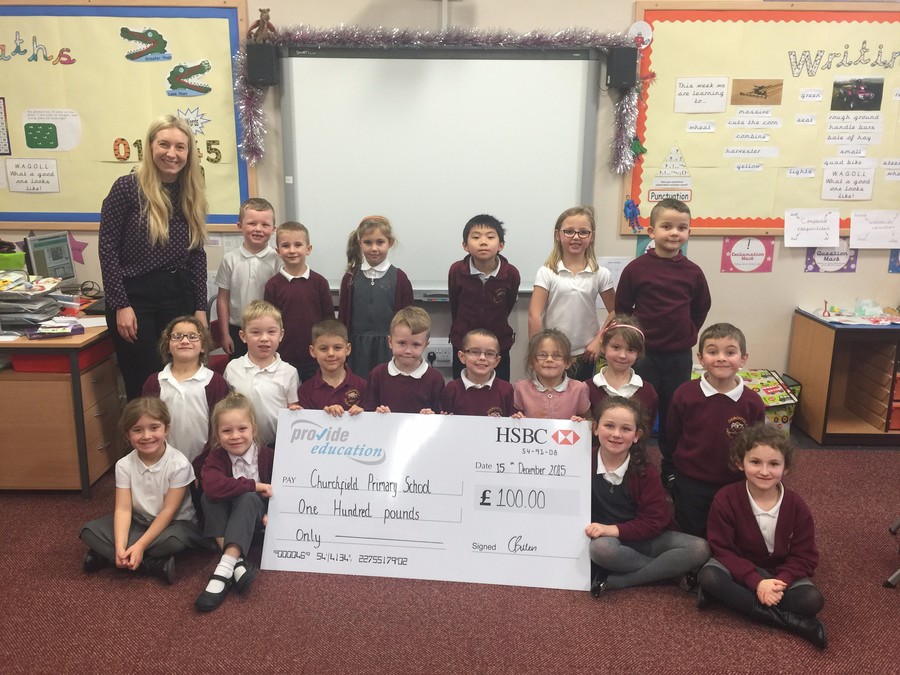 Christmas Card visit
We were very lucky to have a visit from Michael Dugher MP and Councillor Charlie Wraith MBE, to announce the winners of the Christmas card competition! A huge well done to Vinny S from Year 4, Hollie M from Year 1 and Brooke P from Year 3!
Christmas Performances
It's been a very busy week, packed full of incredible Christmas performances! FS2 produced a brilliant traditional nativity, whilst KS1 looked at the story from another viewpoint in their production of 'A Little Bird Told Me'. KS2 took on an alternative nativity, going back to Memphis, Tennessee in 1960 to meet the three Kings (of rock 'n' roll) and Mary - the waitress from Nashville! Below is a highlights video from the evening performance. We are all so proud of our amazing pupils for putting on such great shows, and a very big thank you to all parents for coming to enjoy the shows!
Playzone Christmas Party
The children attending PlayZone had their annual Christmas party this week, with games, music, food and lots of laughter! In what has become a tradition now, all the PlayZone staff put on a fantastic event that was thoroughly enjoyed by all! The children enjoyed playing pass the parcel, opening presents, dancing and much more!
Year 6 Residential - November 2015
Year 6 had an absolutely incredible time at Tower Wood in the Lake District for their residential! 40 pupils went and took part in various activities like climbing, caving, sailing, kayaking, walking and even ghyll scrambling!
It was a glorious three days in brilliant weather, and the staff at Tower Wood were amazing. The groups visited Cathedral Cavern, scrambled up Stickle Ghyll and even paddled accross the biggest lake in England! Everyone who went said they had an amazing time. Below you'll find some pictures from the trip and some work the children did when they returned. If you would like any of the pictures, or to see more, please see Mr Bean.
"I loved Tower Wood because it was full of adventure and different things that I never thought I would do!" - Ella S
"I enjoyed getting to know everyone more, and faced my fear of heights!" - Gabby K
"It was amazing that we actually managed to get across Windermere, the biggest lake in England, we even made our own boat!" - Ruby S
"I loved that I achieved something I never thought I could do," - Charley H
"It was AWESOME!" - Freya P
"The only was it could have been any better, would have been to go for longer!!" - Maddie W