Welcome to Year 4
Welcome to our Year 4 Pupils' page. Here you'll find everything that we've been up to, useful links & dates, photographs and our work.
Classes
9 - Dedicated Dolphins- Miss Wigston
10 - Talented Turtles- Miss Senior
PE Days
Monday -Astro Turf
Wednesday - Gym
Straw and Order- WC 10th December
Congratulations Year 3 on another successful Christmas performance. Here are photos of you in action. Thank you again to all the parents and carers who supported our show.
Christmas Banners- WC 26th November
This week we have been creating our Christmas Banners, based on famous Christmas stories. Class 9's story was 'A Christmas Carol' and Class 10's was 'Steadfast Tin Soldier'. All the children were involved in creating th banners, using lots of techniques including collage and water colours. These are proudly hung high in the hall, for all to see! It's beginning to look a lot like Christmas!
War Museum - 21st November
Thank you to everyone who came and visited Churchfield's War Museum. The children worked so hard to create work for the museum and it was amazing to see their brilliant work on display! Hope you enjoyed seeing the children's work and you may have learnt a few new facts about the war yourself!
Makaton - 16th November
On Monday, some of Year 4, had the amazing opportunity to learn some Makaton signs with Mrs Dixon. We practiced some greetings, how to say our name, and started to learn 'Away in a Manger' in Makaton ready for Christmas. Watch out for a video coming soon!
Art - The Battle of Britain - 8th November
This week, in PBL, we have been learning about the different planes used in The Battle of Britain during WW2 - The Messerschmidt BF 109 and the Spitfire. We sketched these planes, looking at the different features of the planes. Then, we applied some water colour techniques to paint our planes. Come and see some of our work in our museum on Tuesday 20th November!
Science- Circuits- 23rd October
This week in science, we have been learning about electrical circuits. We started with a quick challenge; who can make the bulb light up first? We then challenged ourselves by predicting whether a circuit was complete or incomplete from its diagram. Next, we tested these! Remember: for a circuit to be complete, there must be wires connected to both the positive and negative ends of the power supply!
Cooking a WW2 ration meal- 16th/17th October
This week we prepared, cooked and tasted corned beef hash; a popular WW2 rationing dish. We have learnt about the food people had available, and the 'dig for victory' campaign; where people were encouraged to grown their own! As our recipe only used one quarter of a tin of corned beef, we had to fill our hash with vegetables from our own allotment. We cleaned, peeled, chopped and sliced the vegetables, before cooking them. There were some tears, but thankfully these were just from the onions! The majority of us tasted it and and some of us even asked for seconds!
World Food Day-11th October
In preparation for our harvest festival, on Thursday 18th October at 2:15pm, we have been learning about World Food Day, which takes place on 16th October. We have been learning about how we can help to promote #ZeroHunger and help tackle global hunger. Come along to our harvest festival next week to see some of the work we have been doing!
Rationing-5th October
This week we have been learning all about rationing during the war. We were shocked to find out how little food families had each week to survive on. Can you believe that a family would only have 1 egg per week, unless they had their own chicken? We have started writing non chronological reports about rationing and even done some diary entries from the perspective of children and parents during this time. 350g of sweets every 4 weeks; madness!
Flute lesson- 28th September
This week, we learnt how to put our flutes together properly, and practised blowing down them. Even though some of us are finding it very challenging, we are being very resilient!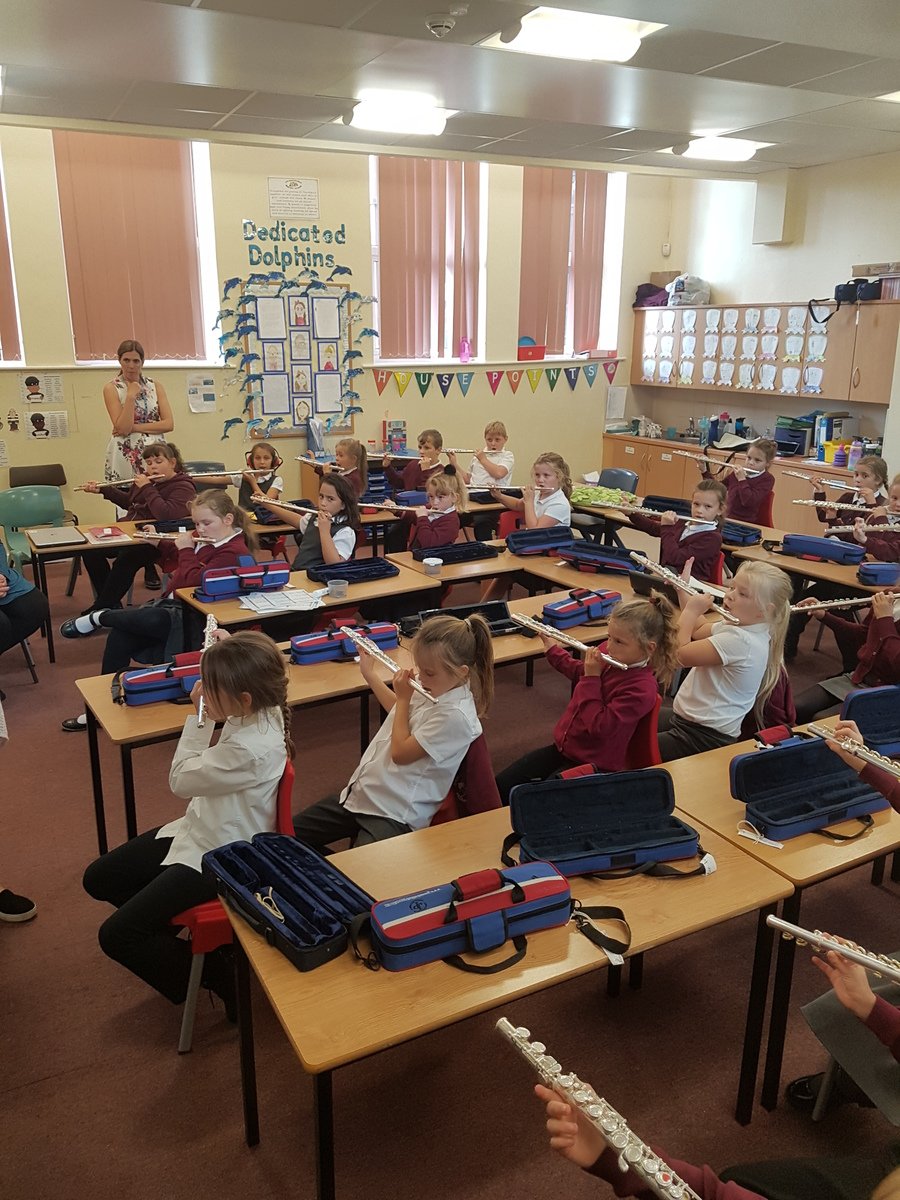 Eden Camp- 20th September
Our school trip this term was a visit to Eden Camp museum. We spent our day learning all about life during the war, by transporting ourselves back to the sights, sounds and even smells of WW2. We visited huts and learnt about many topics including: the start of the war, evacuation, rationing, the home front and the 'blitz'. We even watched a puppet show performance in the music hall, where some of us got a little bit wet! We had a wonderful day, and learnt lots about our new topic!