Welcome to Year 5
Welcome to our Year 5 Pupils' page. Here you'll find everything that we've been up to, useful links & dates, photographs and our work.
Classes
Class 11 (Outstanding Orcas) - Miss Taylor
Class 12 (Logical Lionfish) - Mr Jewitt
PE Days
Monday - Netball (Gym)
Thursday - (Cross Country, Tag rugby, Danish Longball and Rounders) Dorothy Hyman
14th May - Science Lesson
In science we have been learning about the respiratory system by building imitation lungs.
13th May - Gymnastics Lesson
7th May - Science Investigation
In science today, classes 11 and 12 were studying the functions and different parts of the heart by dissecting and viewing a lamb's heart.
4th April - Easter Craft Morning
Another great turn out for our very successful Easter Craft morning, where we invite parents to come along and take part in creating crafts with their children. Each term we try to run these days in school to add something extra to school. It gives parents and insight into how well their children behave and the things that they can do.
This also gives an opportunity for parents to meet other parents and to get to know their child's class teacher, which we feel is vital.
Keep looking out to see when our next days will be and what crafts we will be creating.
Thank you for the support from all staff, parents and children this could not be possible and as successful as it is without you.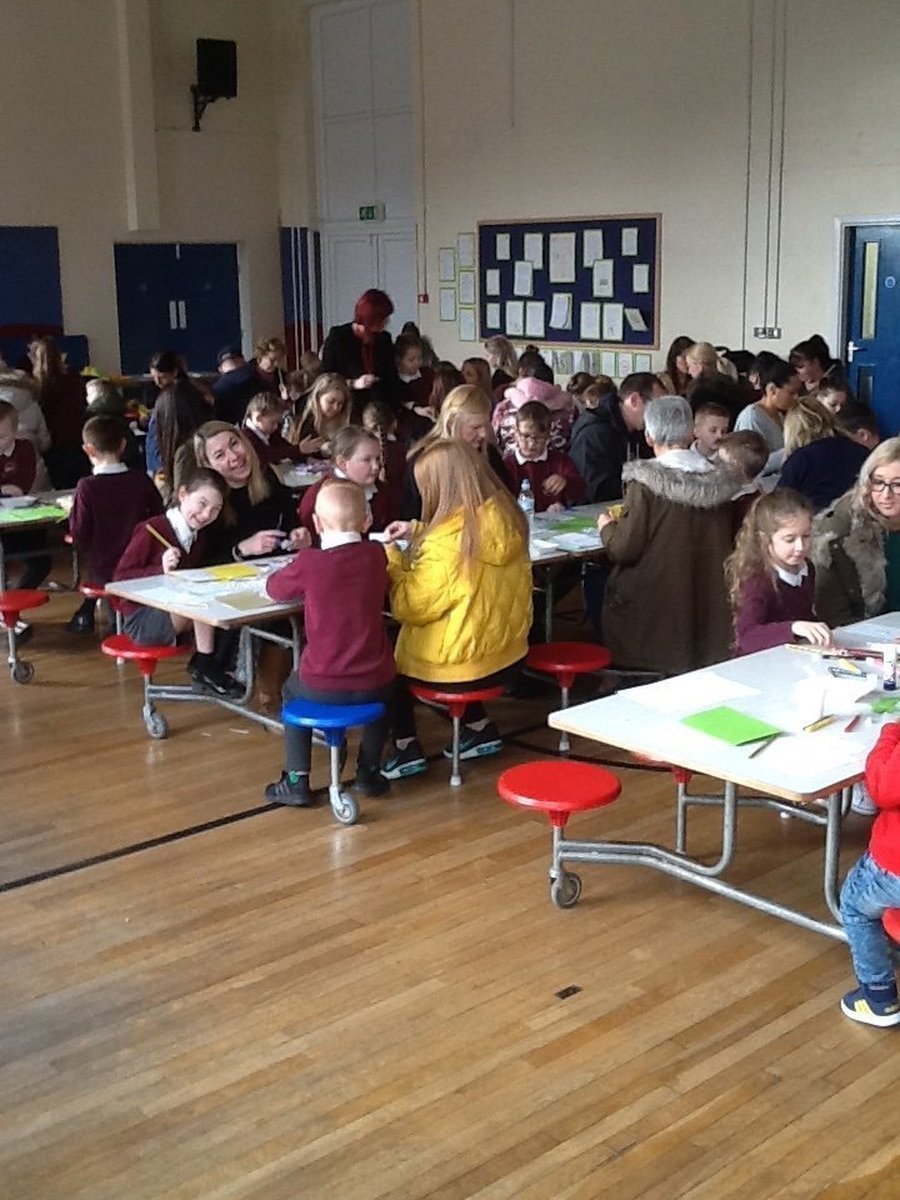 18th March - Shakespeare Day
During Shakespeare Day, Year 5 have being reading, performing and creating art work based on the play, Macbeth.
7th March 2019 - World Book Day
25th February 2019 - Heart Start
Reminder to all parents that if you are wanting your child to take part in the Heart Start First Aid course then please return forms in ASAP.
11th January 2019 - Barnsley Music Service
This term our topic is Discover Britain. We have been in role as Geographers learning about the United Kingdom. We've have learnt how to use 6-figure grid references and give directions using the 16 points of a compass. We have learnt all about the different OS maps (Explorer and Landranger) and are beginning to use map symbols and contour lines to describe the landscape of an area.
7th December 2018 - Christmas Concert
Do not forget that the Year 5 and 6 Christmas Concert's are taking place next week.
Tuesday 11th December 2pm
Thursday 13th December 6pm
30th November 2018 - Christmas Banner
Year 5 have being working hard this week to get their banners ready to be hung up today.
Class 11 have completed their Babushka banner.
Class 12 have completed their Silent Night- The Christmas Truce of 1914 banner.
Both banners, alongside all other class banners are hung on display in the hall.
23rd November 2018 - War Museum
Another big thank you this week to everyone who attended the War Museum. Year 5 and 6 displayed some fantastic written work, including; newspaper reports, poetry and fact files; some amazing water colours, pencil sketching and propaganda posters and finally the outstanding homework we have received this year.
16th November 2018 - War Concert
A big thank you to everyone who attended the War Concert on Tuesday night, it was a fantastic event which the children took great pride in sharing their written work, performances and songs from the choir.
9th November 2018 - Dorothy Hyman
This half term, Year 5 and 6 have moved on to the following sports whilst taking part in PE on Thursdays at Dorothy Hyman.
Hockey
Golf
Tag Rugby
Please make sure your child is sent to school with appropriate PE kit for the weather.
A white t-shirt, black shorts or joggers/ tracksuit bottoms, trainers, and due to the weather a black or navy jacket/ coat or hooded top.
19th October 2018 - Harvest Festival
Well Done! to Year 5 and 6 who completed a fantastic Harvest Festival performance, some outstanding; poetry, art work, non-fiction reports, persuasive writing and creatively carved pumpkins.
12th October 2018 - Our Homework
5th October 2018 - Year 5 Trip to Lotherton Hall
On Thursday 4th October, Year 5 went on a trip to Lotherton Hall in Leeds, to find out all about life in World War I. The children were able to act as nurses working in the war to treat wounded soldiers, tour the house and gardens looking at World War I artefacts and even sing World War I songs in the 12 century chapel. All of Year 5 were a credit to our school with their impeccable behaviour throughout the day.
Do not forgot school trip on Thursday 4th October to Lotherton Hall. We will be setting off at 8.45am, you need to arrive at school no later than 8.30.
This term our PBL topic is World War One. We've been in role as historians and researching the 'spark that lit the fuse of war' - the assassination of Archduke Franz Ferdinand in Sarajevo, Bosnia. We've learnt about the events that led up to the shooting, as well as learning about the tension in Europe at the time with all the alliances and treaties. We have also written newspaper reports from the day after the 'shot heard around the world'